Academics' Choice Award™ Winner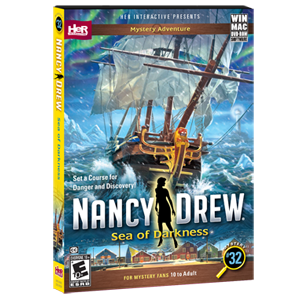 Nancy Drew: Sea of Darkness
Ages: 10 and up
Price: $19.99
Type: Software, Game
By
Her Interactive, Inc.
Description
The celebrated ship "Heerlijkheid," is usually the centerpiece of an Icelandic town's local festival. Now that its captain has disappeared, the renovated vessel has become an eerie distraction. Did Captain Magnus sail away with a legendary treasure, or was he carried off into the night? Take the helm as detective Nancy Drew and set a course for the Sea of Darkness!

Review Highlights:
I was blown away by Nancy Drew: Sea of Darkness. After my 9 year old son and I loaded up the program, a short video played that set up the rest of the game. My son and I were so excited to play! A lot of time was spent just talking to the characters and gathering clues. My son just loved to find people to talk to and choose the right question to ask. That strategy alone, talking about why he asked some questions and not the others lead to a wonderful eduacational experience for both of us. We were able to make explicit his assumptions he had by the questions he was asking! I can't say enough good things about this game. I play it after he goes to bed, and I still haven't solved the mystery.
As an educator of over 20 years, I highly recommend this software to parents who are okay with their children playing computer games. I'd also argue with the parents and teachers who are not interested in computer "games" to take a look at this one and try to convince themselves that there is no educational value to this product.
In the game, you are getting clues to find Magnus and hopefully the treasure. The game was easy to install on our Windows based computer. There is the option to save/not save your progress. It is very handy with the opportunity to play with different difficulty levels so if master seems to hard, you can go to amateur or sleuth level without having to start over. Solving puzzles and the graphics are pretty cool too. My daughter loves the game.
Buy this product at:
As an Amazon Associate we earn from qualifying purchases.