Academics' Choice Award™ Winner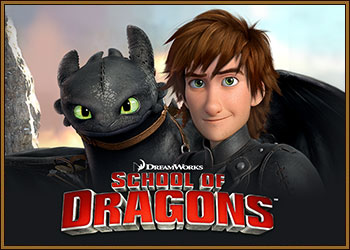 School of Dragons
Ages: 7 - 14
Price: Free with in-app purchases (or $9.99 monthly)
Type: Software, Game, App
By
JumpStart Games
Description
Geared towards kids ages 8 and up, School of Dragons brings DreamWorks Animation's "How to Train Your Dragon" franchise to life with an interactive and immersive gaming experience. Players can raise, train and compete with their dragon - the more accomplished with your dragon, the faster you will raise through the ranks at the School of Dragons and become the Ultimate Dragon Trainer. School of Dragons provides seven different lands to explore while embarking on challenging quests with familiar friends like Hiccup, Toothless and others from the "How To Train Your Dragon" franchise, all while exploring real-life scientific and historical concepts including inventions, storms, and volcanoes.



Review Highlights:
School of Dragons makes for a captivating supplement when teaching a scientific topic or concept, such as introducing the scientific method, but it's primarily entertainment. The game works well as a reward, or for students who finish their lessons early. The learning is subtly woven into the storyline, which focuses on observation, meaning, deductive/inductive reasoning, following directions, recall — all of which is scripted into the role-playing game via prompts, videos, character interactions, and various assigned tasks. Clearly great effort was made to stress the importance of the scientific process, which also aligns closely with the plot from the School of Dragons movie by DreamWorks. Reading is a required throughout so some assistance may be needed for younger elementary students
The game definitely drives home a lot of science concepts via experiential play, watching, listening, and reading, and builds empathy as the student bonds and cares for their dragon.
The game aligns with the core tenet of the Next Generation Science Standards (NGSS) as students learn to how to act like scientists by watching how to ask and answer questions based on observations. During the introduction, a part of the movie plays where the character notices a section of the dragon's tail is missing (the problem). The player must then deduce that it's most likely the reason the dragon cannot fly. From there the story progresses with various videos, tasks, and follow-up questions and then the flying, bonding, feeding, etc. begins. My afterschool enrichment students were hooked at that point.
The game had some glitches for us, but we were able to work through them by either restarting or repeating. The game requires some patience to move forward at times due to various loading screens and/or upsell attempts, but overall it's a quality learning experience that is highly interactive and fun, which is a rarity when it comes to science games.
Definitely visit the website and go to Hiccup's Science Workshop. There are lots of printable science experiments to be used as supplemental learning activities such as The Origins of Sand, The Floating Paperclip, Balloon Inflates on Its Own, Geyser at Home, Mouth Lightning, Potential or Kinetic?, The Basics of a Wave, etc. - all broken out by grade. I applaud JumpStart Games for offering these complementary activities as they are great for teachers and homeschooling parents to extend the learning beyond the game play.
Buy this product at:
As an Amazon Associate we earn from qualifying purchases.