Academics' Choice Award™ Winner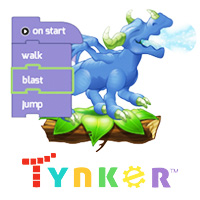 Tynker Creative Computing Platform
Ages: 7 - 14
Price: $48/quarter; $96/year; Lifetime Plan: $200 one-time payment
Type: Software, Website, App, Game
By
Tynker
Description
Tynker is a complete learning system that teaches kids ages 7+ to code. With Tynker, kids learn to code in a fun way as they create apps, build games, program drones and robots, and mod Minecraft. Kids start with visual blocks, then progress to JavaScript and Python. As they learn to code, they develop logic and computational thinking skills that transfer to many disciplines. Over 50 million kids have started coding with Tynker.

Kids can get started with hours of free programming games and activities on the Hour of Code page (https://www.tynker.com/hour-of-code/) or by downloading the free Tynker app for iPads and Android tablets.

Tynker offers 18 fun, self-paced programming courses for kids. They don't need any prior experience to get started with Tynker, and can customize their coding journey by choosing an individualized learning path. As kids learn, they earn trophies and badges, gain XP, and unlock new characters to use in their projects. They also use their skills to build tons of custom creative projects, including games, storytelling projects, animations, and Minecraft mods.

As a parent, you don't need to get involved unless you want to. Tynker courses are self-guided, so kids move at their own pace through lessons with built-in instruction. You get regular updates about your child's progress and can manage your their account from your Parent Dashboard.

Review Highlights:
The software teaches a plethora of skills that will elevate students' (and adults) cognitive abilities to new heights. Tynker teaches children how to program games and animate stories in a clever, easy-to-use approach that involves blocks of pre-programmed code. Students learn logic and reasoning while letting their imaginations leads them through the learning process. The exploratory, learn-through-play approach is fantastic!
We worked through some initial lessons in Programming 1A, Programming 201, ModStarter, and JavaScript. The interface is very user-friendly. It's also colorful and holds attention. The projects are all game-based, and the results immediately appear on the screen. My kids enjoyed the interactivity a lot. There are a number of different courses aimed at different age and experience levels available.
The new STEM based supplements are awesome. Great concept!
The tutorials were very helpful with clear examples. The initial story was a great way to introduce learners to the functionality of the program. It really got my students focused and excited.
The Code Block approach made it very easy for the user to create functionality because an Event Block (which looks like a puzzle piece) had a space below it to snap in a Motion Block. A Motion Block had a space designed to fit a Looks Block, a Looks Block a space to fit another Event Block, and so on. Each Code Block is color coded and has a ton of options. Students can see the logic written in each block such as 'When Right Arrow Pressed (Event Block) Move 40 Steps (Motion Block)." There are hundreds of characters (actors) to add (or you can draw your own) and each actor gets its own set of code, which enables actors to interact. They can collide, talk to each other, etc. The Code Blocks provide a world of possibilities for the user to program just about anything--and then watch it happen! The play feature allows the user to see how their code works (or not) immediately, and the code blocks even light up when the actor on the stage performs the code.
As a teacher I loved that I could show the Code View of the Block Code after the students created their games and stories. They were blown away that they could write such complicated code.
Ten out of ten--a perfect score for a revolutionary product!
Buy this product at: