Academics' Choice Award™ Winner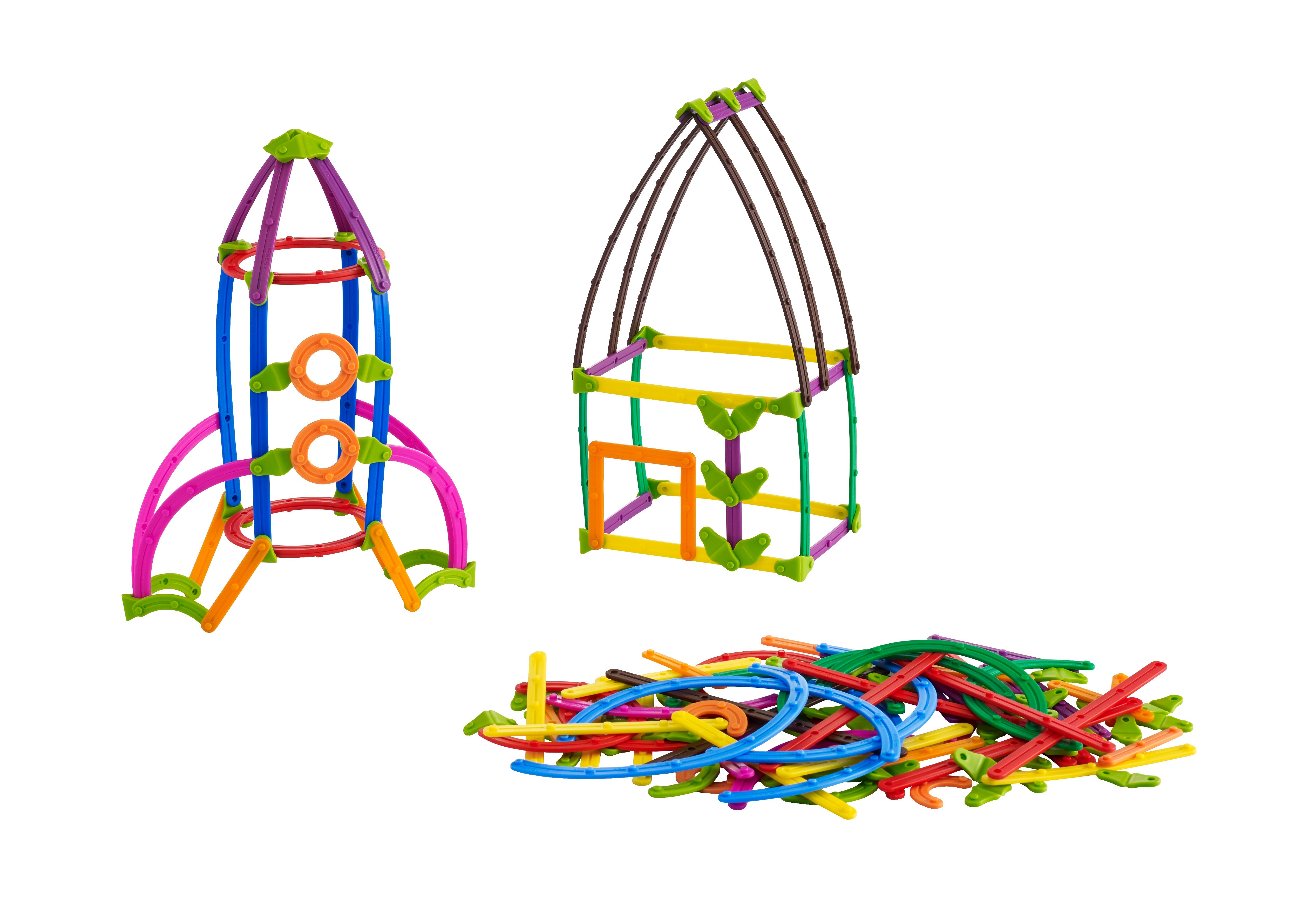 3D GeoStix® Construction Set
Ages: 5 and up
Price: $29.99-35.99 USD
Type: Toy
By
Edx Education Co Ltd
Description
Another addition to our Award winning GeoStix® range is the 3D GeoStix® Construction set. It is ideal educational tool for introducing children to the world of 3D. Infinite construction concepts can be created with this set that help children to develop important skills in problem solving, creativity, spatial thinking and fine motor skills. Build the tallest tower, design a new car - our little engineers will have so much fun!

The Geostix are designed for 3yrs + to play, learn and create designs from letters, numbers and so much more. Children will explore with the different sized GeoStix. Ideal STEAM product, linking engineering, art and mathematics. It will stimulate children's imagination and creative thinking skills.

Hands on learning, improve fine motor skills and develop creative thinking skills while playing with this letter construction set. Have fun developing early childhood skills in creative thinking, problem solving skills.

These hands-on, visual manipulatives foster creativity and demonstrate a variety of fundamental literacy concepts. The activities inspire play-based learning to make teaching fun! Designed for endless creativity, With multiple connection points and varying sizes, these flexible connecting sticks create colorful 2D and 3DGeoStixz. Make a rocket, camera, owl and so much more! 158pcs and an activity booklet - this literacy and creativity resource includes 158 curved and straight connecting sticks in 14 sizes and 10 colors. Great for in the classroom or learning at home.


Review Highlights:
The play-based learning opportunities are endless with these 3D GeoStix®! We loved how you could create the designs in the booklet or design freely on your own. This toy is reusable and great for so many ages (as soon as they are old enough not to eat small pieces).
Overall, this is a great creative toy! My son was frustrated that the pieces come apart so easily but this also makes them easy to re-use and re-build with.
As soon as we took the construction set out of the box, my children were motivated to sit right down and start building. This product allows my kids to work on their spatial awareness as they look at the pictures in the instruction booklet and try to make the model come into being in front of them. This also helps them to work on their problem-solving skills when they realize they have made a mistake a couple steps back, and they have to figure out what they did wrong, how to fix it, and how to continue building the model. I can see how the skills they are practicing with this product will serve them well in the future as they will need to follow instructions, consider the final result as they complete each step in a process, and have self governance as they work on challenging projects that don't always go according to plan.
The product looks exciting. My children are able to follow instructions to build something amazing if they don't know where to start, but there is also a lot of freedom and flexibility to discover and create their own models. The pieces are sturdy yet flexible so they can handle a lot of use (and abuse) without breaking. There is enough variety in the pieces of the construction set that my children have a lot of potential to try a wide variety of possibilities for models. This set also worked well for my son and my daughter. Some of the models in the instruction book were more attractive to my son, while others were more attractive to my daughter. The set packs up nicely in a small and sturdy box so we can easily bring this set with us on trips or keep it handy without worrying about it taking up too much space. After my children develop their critical thinking skills and spatial awareness to build a model, they then use their imaginations and creativity to play with the model in a world of their own design.
I am thankful for sets like this that encourage my children to create and imagine new possibilities outside of just following the instructions provided. The uniqueness of the pieces brought out their creativity in a way that some other building sets cannot. On the other hand, not everything they imagined was able to work out structurally. This led them to have to consider more logically what changes or adjustments they needed to make to their design for it to come to reality. A few times, they even had to give up on their original design to try again for something that could actually come together with the pieces they had and the structural needs of their design. I think these are excellent skills to practice and develop for their future education and whatever careers they end up pursuing.
Children practice following directions, creativity, spatial thinking, motor skills, problem solving, decision making, and much more.
Buy this product at:
As an Amazon Associate we earn from qualifying purchases.