Academics' Choice Award™ Winner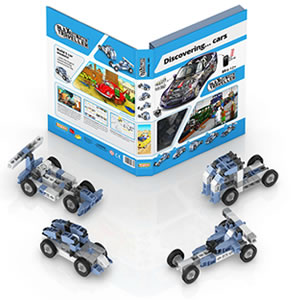 Alex the Time Traveler - Discovering Cars
Ages: 9 - 14+
Price: $20.14
Type: Toy, Book
By
Engino.net LTD
Description
The ENGINO philosophy is to teach Technology through play. Based on this philosophy the ENGINO team decided to create a series of books which combine encyclopedia information with time traveling adventures. The 64-page children's book consists of 3 sections: the 1st section is the illustrated story of Alex who travels in time to meet the inventors of the car; the second section presents the technology behind the cars, speed records and the timeline of the development and finally the 3rd section contains detailed instructions of how to build 5 different car models using the Engino parts found in the book cover.
Review Highlights:
Alex the Time Traveler - Discovering Cars covered many thinking skills: problem solving, logic, critical thinking, classifying, and decision making. All of these skills are essential for a young mind. Alex the Time Traveler is unique in that the pieces are accompanied by a book and story about Alex. The story is followed by instructions for building (the child has a choice of 5 different models to build), a history of cars, the inner mechanics of cars, and car safety.
I really liked the whole toy. My boy could build while I read to him. When he needed help, I stopped and helped. He learned so much about building and cars in such a short amount of time. I thought the parts were very durable, the colors were nice (not bright primary colors) and the illustrations in the story were excellent. I'd recommend this product to any boy between the ages of 6 and 12. It is a great way to learn by doing!
Buy this product at:
As an Amazon Associate we earn from qualifying purchases.