Academics' Choice Award™ Winner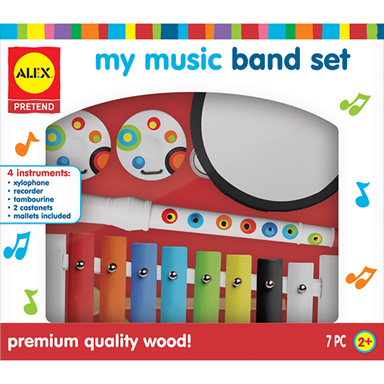 ALEX Toys Pretend My Music Band Set
Ages: 2 and up
Price: $35.00
Type: Toy, Audio
By
Alex Brands
Description
ALEX Toys Pretend My Music Band Set gives your child a variety of instruments to learn and share. A versatile virtuoso can play all four of the instruments; or get 3 friends together and jam as a band. A tambourine and castanets comprise the rhythm section. The 8-metal keyed xylophone and the recorder (flute) provide the melody and harmonies. Wonderful matching white instruments whimsically decorated with bright colors awakens all the senses and introduces a child to the joys of music! Includes a flute, tambourine, 2 castanets, xylophone and 2 mallets. Recommended for children 2 years of age and older.


Review Highlights:
We received the box, and my 6-year-old was really excited! It didn't take long for complete chaos, in a good way! After the initial excitement, we tried to establish some short melodies with the xylophone accompanied by the hand drum. He loved it! The recorder is super fun, but I'd recommend you introduce that instrument outside!
What I like about this music set is that you can introduce individual musical skills to a 4-7-year-old or work together at an ensemble type sound. It is also a wonderful toy to use to connect with your child!
Music is a great learning process for children. My child stayed very busy playing with these instruments which were helping him to pay attention to songs and rhythm and tune. He became a one man band and had a great time.
I love that the product is made of wood. It was well made and the colors were very inviting. This is a product that will last and survive substantial wear and tear, which is nice because it's something that will get a lot of use. My son enjoyed the whole box of instruments and plays with it often. Overall a very nice product and worth the price!
Buy this product at:
As an Amazon Associate we earn from qualifying purchases.