Academics' Choice Award™ Winner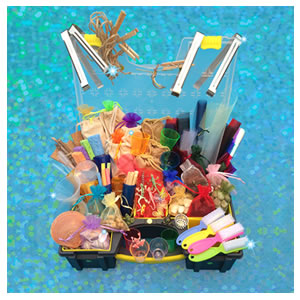 Dream Big Science and Art Imaginology Kit
Ages: 3 - 8
Price: $80.00
Type: Toy, Arts & Crafts
By
Dream Big Science and Art
Description
"Logic will get you from A to Z, imagination will get you everywhere." - Albert Einstein

Today's fast-paced, technology-driven culture instructs children to sustain their focus only for short periods of time. A recent Pew Internet survey of nearly 2,500 teachers found that 87% believe new technologies are creating an "easily distracted generation with short attention spans." We have close to one thousand channels on our TVs. We have unlimited access to websites on the internet. We have phones, tablets, laptops, desktops, screens in our schools, pediatrician's offices, cars, even gas stations. Our overwhelming culture encourages children to develop attention spans too short for them to reach their unique seed of creativity. And CREATIVITY is the KEY to success.

Preschool aged children need to explore subjects in a concentrated way for substantial periods of time to build up their skill for deep understanding. When provided with open ended and stimulating materials, their imagination is unlimited, encouraging long exploration on a single topic and developing imagination, independence, critical thinking, problem solving, sense of pride & confidence, leading to success in school, work and life. The more opportunities children are given to explore, the more they discover their personal way of learning and creating, as well as seeing and interacting with the world.

The Dream Big Science and Art Imaginology Kit is a pre-assembled collection for busy teachers and parents of natural, recycled and manmade materials. These components are hand chosen and uniquely selected to create the most fertile material for early childhood imaginative play, supporting strong academic development in all the STEAM areas (Science, Technology, Engineering, Art, Math).

There are over 300 pieces in this kit designed to interact with each other and with water to inspire open-ended constructive play, furthering leadership qualities, creative, social, language and cognitive capacities. When paired with a child's imagination, this kit has limitless possibilities.

Children will explore and independently gain understanding of volume, weight, light, texture, classification, organization, cause and effect and more! It will keep children captivated for hours on end, week after week, month after month, year after year. They will play with it differently as they mature, making it last.

Created by two time Innovation Award winner, Vivian Belmont, this Dream Big Kit is not a "toy"! This kit inspires and enhances play to its maximized educational capability. It is ONE OF A KIND. No two kits are exactly alike! Each kit is put together by hand with natural and repurposed materials.

INSTRUCTIONS
There are NO instructions on how to use this kit… for the child.

For the parent, the only instruction is: do NOT tell your child how to use anything. They will invent ways to use the materials that you would never dream of.

For an additional dimension we recommend using water with this kit. One possibility is to use a yellow container from the kit and fill it ½ way with water. We have specifically designed this kit to have small containers in order to prevent a large water mess! However preferably, a large (~12" diameter) plastic or metal bowl ? full of water will offer a bigger area for them to work with. We of course encourage towels at the ready! The nets also serve as a place to dry the materials before storing them in the storage box to prevent mold.

Designed for up to 8 children.

WARNING Choking Hazard: Not suitable for children under 3 or any individuals who have a tendency to place inedible objects in their mouths.
Review Highlights:
I loved that the kit helps my kids prepare for elementary school and provides lots of opportunity for shared family experiences. The assortment of activities definitely helped my children develop mentally, psychologically and socially.
The posibilities with this are endless. I'd love to see a few more suggestions included for the science experiments so it is more actual science and less play, but overall the S.T.E.A.M. Master's Kit was a big hit in our household.
The highlight of this product is the emphasis on creativity, imagination, science, and hands-on learning. Open ended opportunities for children, at any age, creates divergent thinking. It gives the child a chance to explore, build and discover through everyday materials.
Buy this product at:
As an Amazon Associate we earn from qualifying purchases.