Academics' Choice Award™ Winner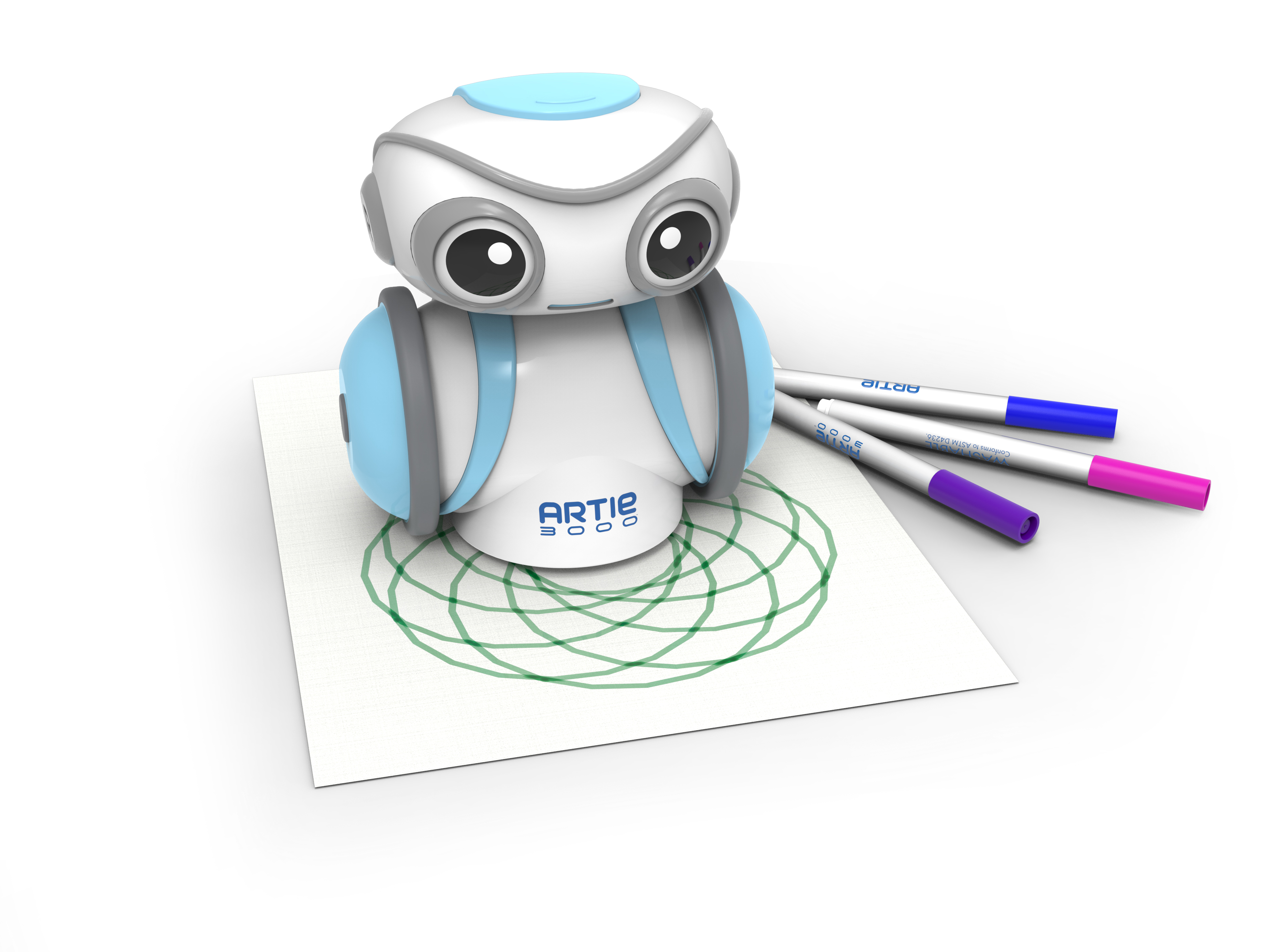 Artie 3000™
Ages: 7 and up
Price: $69.99
Type: Toy, Gear & Equipment
By
Educational Insights
Description
Say hello to Artie 3000™, the new coding/drawing robot from Educational Insights that sparks curiosity in kids and helps them develop coding skills. With Artie, kids 7+ can imagine simple or complex drawings and designs, and translate them into code on any device. Kids then get to experience the payoff of watching Artie draw what's been coded, line by line, moving forward, backward, and spinning in any direction while lifting and lowering four thin-tip, colored markers. Beginners can start with Artie proprietary and intuitive drag-and-drop coding interface, but then advance to exploring more complex languages like Java, Python and more. With its own built-in WiFi server, Artie is compatible with any desktop computer, laptop, tablet or smart device with no need for an internet connection. In addition to freeform coding, Artie comes pre-programmed with a variety of designs like numbers and letters, shapes, games, and line-art for coloring. Artie 3000 is noted for its unique ability to foster critical coding skills through artistic inspiration and expression. Artie has launched with the endorsement of American Mensa, the world-renowned society for high-IQ individuals. Artie is only the third character to ever receive an honorary Mensa card, following in the footsteps of Lisa Simpson and Mr. Peabody.


Review Highlights:
Artie 3000 is AWESOME! My 4 and 6 year old boys love him. We have learned so much already and can't wait to explore his more advanced coding steps. Artie teaches creativity, basic coding, following directions, art/design, critical thinking, math, and provides a great introduction to modern technology. I love that Artie is a creative robot that has pre-set plans for beginners yet allows freedom for growth and for more advanced coders as well.
One of kids' favorite things to do is drawing. Artie 3000 is another versatile way to draw that teaches the important skills of math, art and technology. It uses wifi for giving instructions to Artie and this opens discussion about how it works and the correct steps to getting it started. Artie requires specific instructions and has preprogrammed codes or new codes can be created. It can save any created codes to return to later since long codes can take a long time. A dedicated learner can make incredible art! It has a preview option to see if the instructions are correct which helps to see mistakes before using Artie. This amazing product requires critical thinking to get angles, distance and other measurements to work together to create a final masterpiece. Creativity starts with any color of marker!
Depending on the age of the student, this may require extensive parental support. Internet and wifi are used, so this part also may need supervision. This product really helps a student think abstractly and conceptually and then translate to concrete production. This is a fantastic product to learn very specific skills that are great for developing minds.
My kids loved this little drawing robot. They could learn how to code and program while creating fun, colorful designs and patterns. Artie 3000 is a great educational resource. It allows kids to explore coding and can expand to other languages (Python, etc.). It's easy to set-up, simple to use, and super fun. My kids are ages 9-11 and it was perfect for them.
Buy this product at:
As an Amazon Associate we earn from qualifying purchases.