Academics' Choice Award™ Winner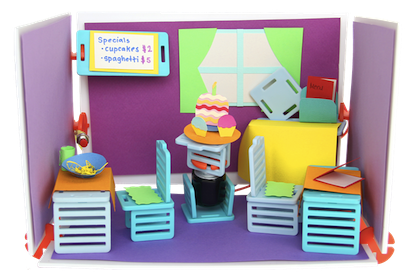 Basic Roominate
Ages: 6 - 12
Price: $29.99
Type: Hands-On Toy
By
Maykah, Inc.
Description
Roominate is the DIY wired dollhouse building kit that gets girls excited about STEM. Through hands-on building and circuits, Roominate brings together creativity, engineering, and most importantly, fun! Roominate is designed by Alice and Bettina, two female engineers from Caltech, MIT, and Stanford with a mission to inspire the next generation of female technology innovators.

The Basic Roominate contains everything your daughter needs to build her own miniature room. Use the building pieces to make bunk beds, water slides, staircases, fridges, and much more! Wire up a windmill, elevator, or merry-go-round that actually works using the motor circuit! The wall and floor panels can even be configured to build two-level structures, balconies, or backyards. The possibilities are endless! See more ideas at roominatetoy.com, along with pictures of what other girls have made!

Roominate has been featured in the New York Times, Wall Street Journal, USA Today, and more!

What's inside:
- 4 wall/floor panels (2 9"x6" and 2 6"x6" panels)
- 24 modular building pieces (assorted teal and light blue)
- 16 connectors (orange)
- 1 motor
- 1 switch
- 1 battery pack (requires 2 AAA batteries, not included)
- Colored paper (20 sheets)
Review Highlights:
Wow and finally! Thanks Alice and Bettina for following through on a very needed toy in the market now only occupied by "girl legos." This product attracts girls into building, design, and electronics work in just the right way. Many, many girls are captured and focused by creating minaturized settings of their own worlds. How better to do it then to allow them to use different and new skill sets to make it happen and to make it more real. Having a daughter that is just now leaving home and going to college, I wonder if a toy like this would have made a change in what she plans on studying, which is outside the STEM fields. I do have two yourger boys at home who would love this product. Just for fun, I am wondering if I took the packaging away and just gave the inside instructions what they might come up with. Fun gender experiments aside, this is a fantastic product that I will surely be sending to my niece to enjoy. She will still be able to gain all the interactive learning and creativity that goes on when using this unique and well put together building toy.
My daughter adores this product, she spends hours building her rooms! I love the fact that she is learning about circuitry and engineering while she plays.
Buy this product at:
As an Amazon Associate we earn from qualifying purchases.