Academics' Choice Award™ Winner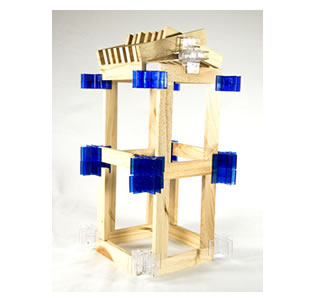 BionicBlox Visionary Kit
Ages: 3 and up
Price: $49.99
Type: Hands-On Toy
By
BionicBlox
Description
The award winning BionicBlox 100 Piece Visionary Kit (ages 3-103) is a clear choice for the little builders and engineers in your life. Countless life-sized creations like bridges, towers, spaceships, furniture and houses can be built from this set. Included are 75 wood foundation beams, 26 BionicStar connectors leaving plenty of pieces to add-on to existing masterpieces. This educational toy will encourage learning of measurement, angles, proportions and basic physics by using these BionicStar connectors to attach blocks while their ideas from the ground up.
Review Highlights:
It is wonderful to have a product that works well for both of my boys to play with and even play with together. The first thing they noticed was how smooth and even the blocks were. When they started building, one built creatively making different angles and shapes, the other built structurally and strong. They merged their building into one large sculpture and were quite proud of their creation. They collaborated well. When they finished building. They tested it's strength by tossing down onto the floor over and over. The structures held up very well. The only difficulty was that the blocks were stiff and difficult for them to put into the connectors. Overall, Bionic Blox were a blast and used in so many unique ways, often integrating with other toys. The collaborative play was the most satisfying aspect of this product. I definitely recommend it.
BionicBlox are an excellent way to encourage creative play, use of imagination, and introduce the basics of physics, geometry, architecture and engineering. These make a great addition to any classroom.
Buy this product at:
As an Amazon Associate we earn from qualifying purchases.