Academics' Choice Award™ Winner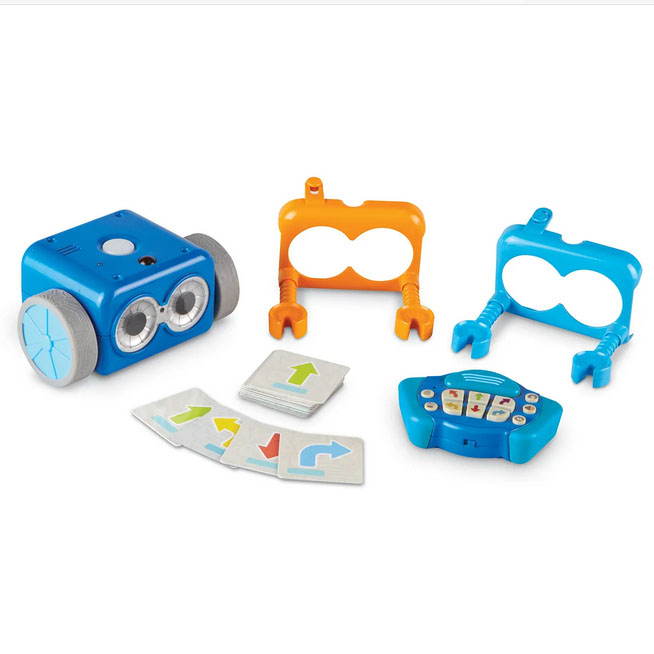 Botley 2.0 The Coding Robot
Ages: 5 and up
Price: $64.99
Type: Toy, Game, Electronics, Gear & Equipment
By
Learning Resources
Description
Meet Botley 2.0 the Coding Robot, the next generation of Learning Resources' award-winning Botley the Coding Robot! Botley 2.0 brings all-new functions to the world of screen-free coding, and is ready to help kids explore coding challenges right out of the box. Code a light show with Botley's colorful light-up eyes that detect the dark, play a game of "Botley Says", or use the six-direction remote programmer to build coding sequences of up to 150 steps. Botley 2.0 is packed with more intelligence and personality cues - kids can discover secret codes which transform Botley into a train, ghost, police car, frog and and more! Use up to four Botleys in the same room for multiplayer races and competitions with friends, siblings, and classmates.


Review Highlights:
Botley 2.0 is a great learning tool! This truly can be played with "right out of the box." My kids were immediately excited to get started coding! Botley 2.0 is disguised as a toy, but it offers so much more than playtime. Both my children (ages 10 and 7) used Botley 2.0 to communicate ideas and plans for where he could travel, what obstacles he would move around, and how they could cooperatively reach the finish line. Botley teaches basic coding (sequence and loops) and logic through play. The adorable robot develops creativity, sequential and conditional reasoning, cooperation, following directions, perseverance (grit), visual-spatial processing, logical thinking, problem-solving, and so much more. I loved that it was screen-free!
Botley 2.0 is designed to grow with children's ability to code. As their skills increase, they can make the coding more challenging. Having kids of different ages, the skills they practice with Botley 2.0 reflect their familiarity with cause-and-effect and sequential thinking. I love seeing learning happen through trial and error!
Botley 2.0 comes with the robot, a remote, changeable arms, coding cards, and an instruction manual. Five (5) AAA batteries are needed to get the fun started. My kids were able to set up Botley 2.0 independently in about 5 minutes. He features noises, a few spoken words, sound effects, and lights around his eyes. The remote control has soft-plastic buttons and it's intuitive for immediate play. My 10-year old has some knowledge of programming, but he was excited to play with Botley 2.0 through an obstacle course. My 7-year-old was intrigued by the sounds and silly motions. The cards were helpful to recreate paths and help with trial and error learning.
I was so excited that Botley 2.0 is screen-free. Botley 2.0 is the total package - no other technology needed! As a parent, I was glad to not have another app, unique login and password, as well as advertisements for upgrades.
I like that there are so many different ways to play with Botley. Kids learn coding skills, directions, and have to really think outside the box to make Botley go where they want.
Botley gives the young child a creative and fun way to learn early coding skills. The robot has many features that provides the child multiple ways to interact with it. It is perfect for small hands and easy to work. The instructions start out with very simple commands. It then introduces simple coding. Botley can perform sequences of up to 150 steps! There is a LOOP button which enables the user to repeat a step or sequence. Botley also has an object detection button to "see" objects in his path and will perform alternate sequences. In the dark, Botley's eyes will light up! You can even customize the color of Botley's eyes. There is a light bulb button and if you press it for a couple of seconds Botley will play short melodies. Botley will follow hand-drawn black lines. Botley has two different interchangeable faces and arms. There are also secret codes that you can enter for Botley to perform secret tricks. These are just some of the amazing things that Botley can do.
The upgrades from the original Botley are fantastic. The kids enjoyed changing the colors around the eyes, the secret codes for special sounds and movements. I appreciated the new lock on the eyes-a great feature to keep them in place. I also like that there is a way to keep remotes from interfering with each other when multiple Botleys are being played with. These upgrades were well-thought out, and make the toy so much more enjoyable.
Buy this product at:
As an Amazon Associate we earn from qualifying purchases.