Academics' Choice Award™ Winner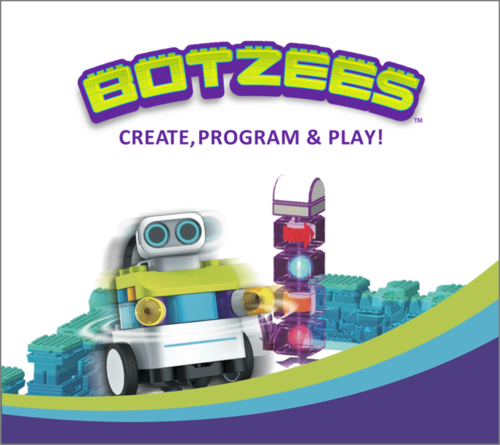 Botzees
Ages: 4 and up
Price: $99.99
Type: Toy, App, Game
By
Pai Technology
Description
Create, program and play with Botzees, an augmented reality robotics kit that combines construction, coding and creativity. Botzees has the best of both worlds — educational screen time and physical playtime! The kit contains 130 gender-neutral, uniquely shaped, easy-to-grip blocks allowing kids as young as four-years-old to build six pre-designed Botzees, or get creative and create their own! Additionally, the 30 interactive augmented reality puzzles in the free accompanying app teach foundational coding concepts like sequencing, looping, and conditional coding in an intuitive and visual way.


Review Highlights:
What I liked about Botzees is that it introduces young children to coding and programming. It is very user friendly and not at all intimidating. Parents will be instructed to download the manual from the internet and get the instructions as how to begin. Simply download the app, "Botzees AR", connect to Bluetooth. Follow the instructions for set-up. Your child will then be guided step-by-step in creating one of the 6 pre-designed Botzees, or your child can create a robot of their choice. Once their robot is constructed this is where the fun begins. With 30 augmented reality puzzles it teaches simple coding and programming along with looping and sequencing through its fun in-game narratives. Your child will have so much fun watching their robot move through the room as they control it with their device. I was very impressed with the quality of the app itself and the technology built into it. Your child will spend HOURS building different robots and coding and programming and playing games. They will have fun maneuvering their robot throughout the room via their device. The kit comes with 130 construction pieces. The quality of the building pieces are very good. Botzees is compatible with both iOS 12+, or Android 8+. My daughter gave this a DOUBLE THUMBS UP!!
I liked how they scaffolded the access to certain coding elements so it taught you the tools as you worked through different levels. You had to complete different puzzles/builds in order to unlock new code blocks. As you worked through these puzzles, they demonstrated and required you to practice the new block. I also liked how the product combined the physical activity of building your robot with the augmented reality experience. Building the robot was also very straightforward as you were walked through each part with a piece-by-piece visual demo.
Botzees promotes many skills including programming, coding, construction, imagination, creativity, play, and following instructions.
Buy this product at:
As an Amazon Associate we earn from qualifying purchases.