Academics' Choice Award™ Winner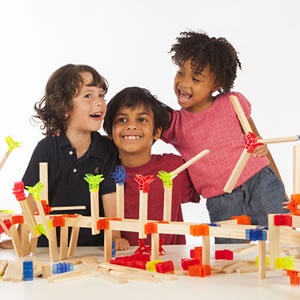 Brackitz
Ages: 3 and up
Price: $34.95-$99.95
Type: Toy
By
Brackitz
Description
Brackitz is the only construction toy that lets kids design any structure they can imagine - anything. Our unique, connect-anywhere brackitz enables kids to create large scale, portable, 3-D structures – with no instructions or limitations – all while learning real-life engineering and architecture skills.




Review Highlights:
Creative play was inherent with this toy. I loved hearing my son share stories about each of his creations. I liked the size, colors, and open play options.
Children, when working in a group, had to communicate effectively and collaborate to create their piece. I liked that there were no use instructions--children were able to explore without ideas. My daughter said, these are better than Legos because you get to be creative. Legos tell you what to build. I also liked that there were directions for how to repackage the Brackitz so they fit in the box for storage.
Students were able to practice making various polygons as well as mazes. Students explored different structures and determined which structures were sturdiest. Brackitz has so many creative uses. It encouraged students to work together to create.
Buy this product at:
As an Amazon Associate we earn from qualifying purchases.