Academics' Choice Award™ Winner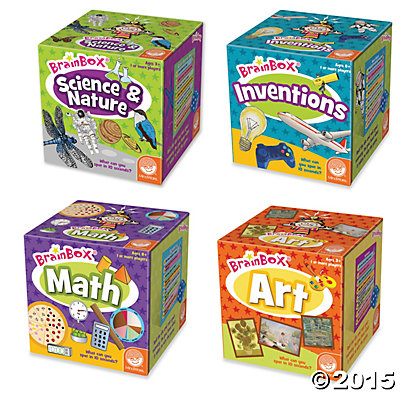 Brain Box S.T.E.A.M. Games: Set of 4
Ages: 8 and up
Price: $49.95
Type: Toy
By
MindWare
Description
Our new collection of fun and memory-boosting games features essential Science, Technology, Engineering, Arts and Math (S.T.E.A.M.) topics. Players study the pictures-and-facts side of the card for 10 seconds, and then flip to the other side to see how many questions they can answer: How many hovercrafts are shown? At what temperature does water boil? Was this masterpiece painted in 1691 or 1891? Each game includes 55 cards, a sand timer and a die. This set of four BrainBox games includes Art, Science and Nature, Math and Inventions.
Review Highlights:
BrainBox helps kids analyze, evaluate and comprehend quickly. Kids need to remember what they see and read and then evaluate what they have seen. I love how easy it is to play, how durable it is, and that it is enjoyable and educational.
The variety of topics included with this bundle is appealing. The topics are on par with what is being taught at school, and age appropriate. The cards are appealing and sturdy as well. The game is fun and exciting.
I liked everything about the game. I liked that the game could be played with one person or with more than one person. My daughter and my niece couldn't wait to get started when I showed them the game. And, I've played it a time or two on my own. I highly recommend this game for a multi-student challenge or for an "I'm finished, now what?" type of activity.
Memory and comprehension are the major skills needed for and practiced in this Mindware game. Overall the game is fun and quick to play as well as a great learning tool. I definitely recommend this product to parents, homeschoolers, and teachers.
Buy this product at:
As an Amazon Associate we earn from qualifying purchases.