Academics' Choice Award™ Winner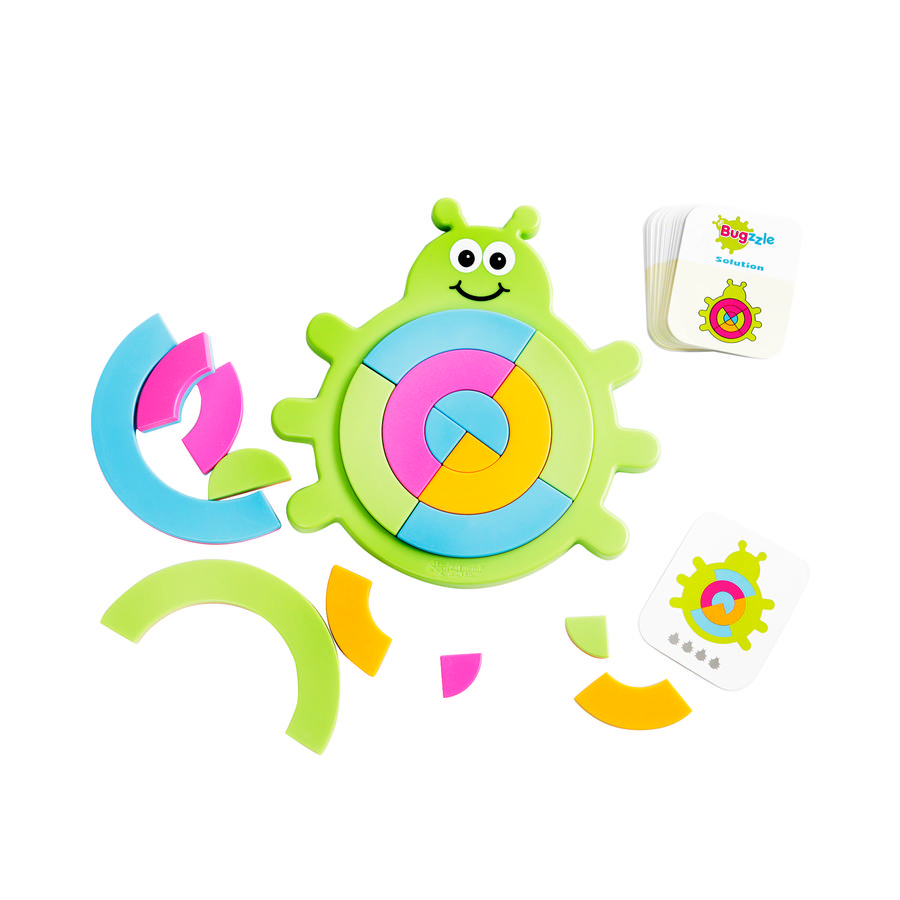 Bugzzle
Ages: 3 - 8
Price: $19.95
Type: Toy, Game
By
Fat Brain Toy Co.
Description
Pick one of the 40 challenge cards and then arrange, flip, and perfectly position the semi-circular puzzle pieces into the bug-shaped tray to match the picture. It's a wonderfully satisfying brain challenge! - And all the while, kids are learning about colors, fractions, early math, and more.




Review Highlights:
Bugzzle develops critical thinking, problem solving skills, pattern recognition, sorting, fine motor skills, visual-spatial thinking, colors recogntion, symmetry, basic math skills and more.
This product is made of a durable, lightweight, plastic. It has no odor or plastic smell. The colors are vibrant and very appealing. Bugzzle is cute. Children will see Bugzzle as a game not realizing that it is also very educational. There are 40 challenge cards. The level of difficulty with the puzzles gets increasingly harder as you go. The solution is on the back of each card. I am a huge fan of products such as Bugzzle that challenge children to use their critical thinking skills to solve puzzles. This product can definitely be used for children of a wide range of ages due to the varying levels of difficulty. The levels of difficulty are notated on the cards by gray bugs. One bug is the easiest level and four gray bugs is the most difficult level. I would definitely recommend Bugzzle to parents and educators. I think that Bugzzle is a wonderful learning tool.
It is the perfect way to develop visual-spatial reasoning and pattern recognition in a young child.
We love Fat Brain Toys! We have reviewed a couple other toys from this company and it seems that they always produce well-thought-out and developmentally appropriate toys. Not only that, but they are usually quite sturdy and not too expensive. Bugzzle in particular reminds me of a MENSA toy I purchased for my oldest child many years ago. The eye-hand and visual spatial development is key for a 3-6 year old and this skill is practiced a lot with Buggzle. The process of transferring the 2-D color/pattern based image of the card to a 3D model is key. We had fun with this one for while! Thank you for producing such wonderful educational toys for my boys! Two big thumbs up!
Buy this product at:
As an Amazon Associate we earn from qualifying purchases.