Academics' Choice Award™ Winner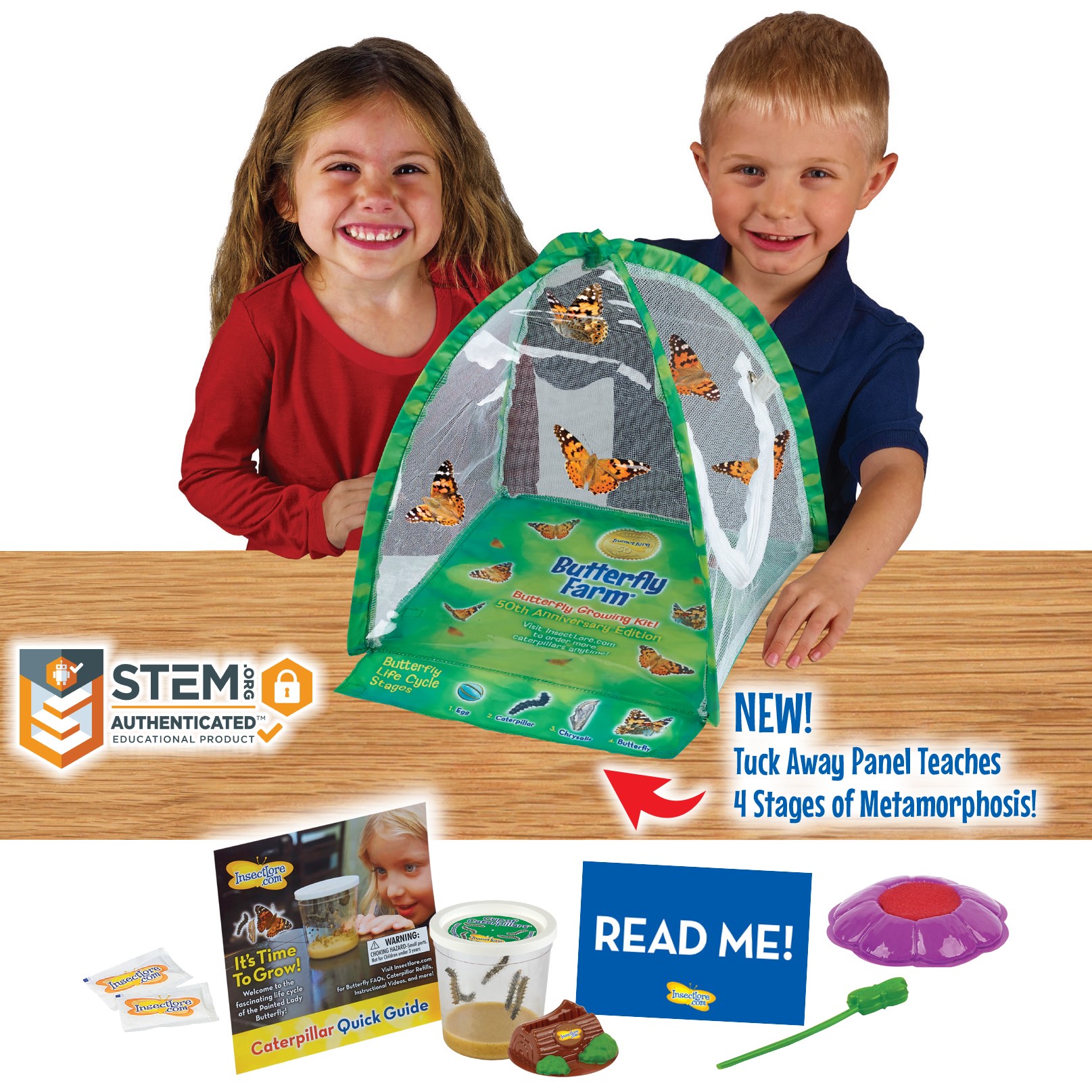 Butterfly Farm with Live Cup of Caterpillars
Ages: 4 and up
Price: $27.99
Type: Toy
By
Insect Lore
Description
To celebrate 50 years, Insect Lore has created the Butterfly Farm! Watch as 5 tiny larvae embark upon their remarkable journey from caterpillar to butterfly. Insect Lore has been successfully providing children and adults alike the wonder of metamorphosis for 50 years! Our newest butterfly kit includes a Cup of Caterpillars, a one-of-a-kind Butterfly Farm habitat, and everything you need to raise your own caterpillars! Insect Lore's reliable biology ensures your children will enjoy a rewarding and memorable learning experience. Insect Lore's Butterfly Farm kit introduces children and adults to the fascinating world of Metamorphosis! Helpful tips and accessories make learning a complex process simpler and easier than ever! Transform your view of the natural world by witnessing one of nature's most incredible phenomena right at your fingertips as caterpillars eat grow and transform into adult butterflies! Butterfly Farm brings family together as they raise & release their very own insect friends! Connect your children to nature and give them an appreciation for the outside world that they will never forget!

Butterfly Farm includes:
- Pop-up habitat with ultra-clear panel ideal for viewing Painted Lady butterflies
- Tuck away panel on habitat showing all 4 stages of metamorphosis
- 5 baby caterpillars with all the food they need
- Flower butterfly feeder
- Sugar packets
- Deluxe Chrysalis Station Log
- Feeding dropper
- Caterpillar Quick Guide
- READ ME insert with helpful caterpillar-raising tips



Review Highlights:
This is the best Butterly set up I have seen! I love that one side of the pop-up habitat is completely clear and it will be easy to see the changing process. I look forward to raising our little caterpillars!
Butterfly Farm is wonderful, family-friendly science project/nature study. It develops observation skills, sparks interest in the natural world, teaches about life cycles, and the responsibility of caring for "pets."
My kids and I have raised many monarch caterpillars in the past and this has been our favorite set up by far.
Loved it all!
Buy this product at:
As an Amazon Associate we earn from qualifying purchases.