Academics' Choice Award™ Winner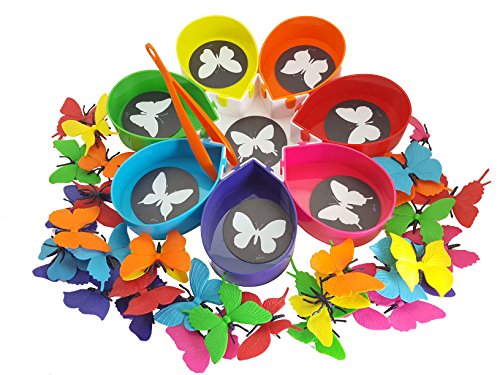 Butterfly Garden
Ages: 3 and up
Price: $34.99
Type: Toy
By
Skoolzy
Description
The Butterfly Garden is a fun educational STEM toy for toddlers and preschoolers. It provides a fun way to learn colors and matching. This educational toy provides an introduction to math with counting and patterning. Toddlers and preschoolers will develop those cognitive muscles while sorting and counting as well as improve fine motor skills . Cognitive abilities are sharpened with advanced shape matching of the different butterflies. The colorful rainbow butterflies and the building of the flower petals make it an ideal unisex toy for both boys and girls.


Review Highlights:
My toddler practiced sorting, counting, color identification, and benefited from some independent pretend play.
Butterfly Garden is a delightful, tactile toy - perfect for developing hand eye coordination, fine motor skills, color, pattern, and number recognition. The product also develops observation and classification skills, which are foundational gateway skills to cognitive development.
My daughter was a little old for this toy (she is 7). However, we did make the pyramid, and created some of our own games. The butterfly identification was a little more advanced and age-appropriate for her.
You can create games with the product to increase skills. I also like the way the "petals" attach to the star in the center, to make a flower, but can also be used separately.
Buy this product at:
As an Amazon Associate we earn from qualifying purchases.