Academics' Choice Award™ Winner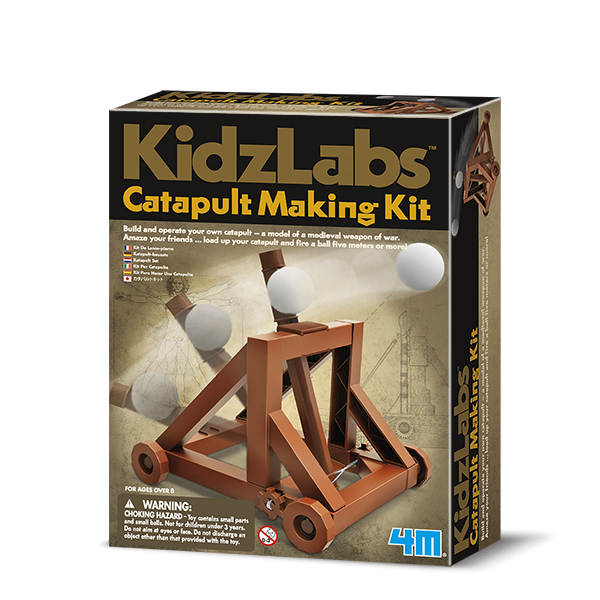 Kidz Labs / Catapult Making Kit
Ages: 8 and up
Price: $15.00
Type: Toy, Game
By
4M Industrial Development Limited
Description
Build and operate your own catapult — a model of an medieval weapon of war. Amaze your friends ... load up your catapult and fire a ball five meters or more!






Review Highlights:
This easy to assemble catapult helps students see how energy can be stored, transferred, and converted. We used the catapult to learn about potential energy transforming into kinetic energy. It's a fun science activity that can also be used to teach math concepts. You can easily change the launch angles, which changes the distance that the ping-pong ball-like projectile travels, as well as the speed of the launch by turning each winding wheel, tightening the band. Add a measuring tape to measure distances covered and teach standard measurement units while practicing fractions and decimals.
Building the catapult was a great exercise in following directions, which were clearly written in the downloadable manual. Once constructed, our kids loved playing target practice with the catapult, launching the balls in an attempt to hit the targets provided. We used the activity to explain the meaning of projectile motion, accuracy, and precision. I had my kids record the data and their observations from each launch, hypothesize outcomes when we changed angles and launch speed, and then took it a step further by testing different weighted items (marshmallows and cotton balls). The kids loved it so much I decided to challenge them further by having them design their own catapult out of popsicle sticks and rubber bands. Although we couldn't beat the distance with our home-made versions the exercise provided hours of learning through play.
I liked that the manual also includes some fun facts about catapults and their history.
We enjoyed building the 4M Catapult Making Kit. My boy is in 7th grade so this was perfect for his history curriculum. It took us about 30 minutes to complete the construction so this was ideal for his attention span. We were successful in launching the ball about 10 feet which was pretty cool!
Buy this product at:
4M Industrial Development Limited
As an Amazon Associate we earn from qualifying purchases.