Academics' Choice Award™ Winner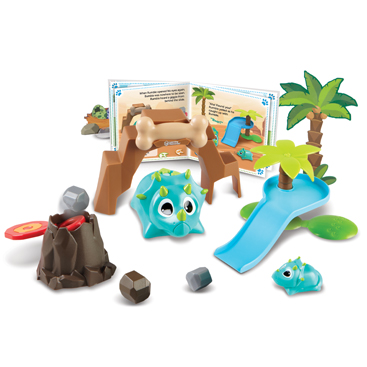 Coding Critters™
Ages: 4 and up
Price: $39.99
Type: Toy
By
Learning Resources
Description
Meet the Coding Critters™- puppies Ranger & Zip, kitties Scamper & Sneaker, or dinos Rumble & Bumble -your first coding friends! These interactive pets introduce preschoolers to critical thinking, problem-solving, and other STEM skills with the help of fun playsets, storybook coding adventures, and two interactive modes! In Play Mode kids can feed, pet, and take care of their new friends. Code-along story challenges help to build skills through imaginative play. Easy to use, Coding Critters are simple enough to use right out of the box and challenging enough to grow with kids' skills. Kids build their understanding of STEM skills including sequential logic, critical thinking, and problem-solving every time they play.


Review Highlights:
My boy loved Rumble and Bumble. We received Coding Critters Rumble and Bumble a few weeks ago and my 5 year old still likes to play with it - which is a great sign! It is an interactive coding toy that comes with a 20 page story. Rumble scoots along according to how you program it. This is a super simple introduction to coding but without a screen! I liked everything about it!
Coding Critters teaches basic coding (without screens), logical thinking skills, problem solving, and provides lots of opportunities to practice reading, following directions, comprehension, caregiving, and patience.
We read the story and pressed buttons accordingly. My son ended up just pressing buttons to see what would happen, which is fine as well. We enjoyed the story and interacting with Ranger. I think what I like the most is that my boy could get an idea about coding at 5 years old that didn't involve a screen.
Buy this product at:
As an Amazon Associate we earn from qualifying purchases.