Academics' Choice Award™ Winner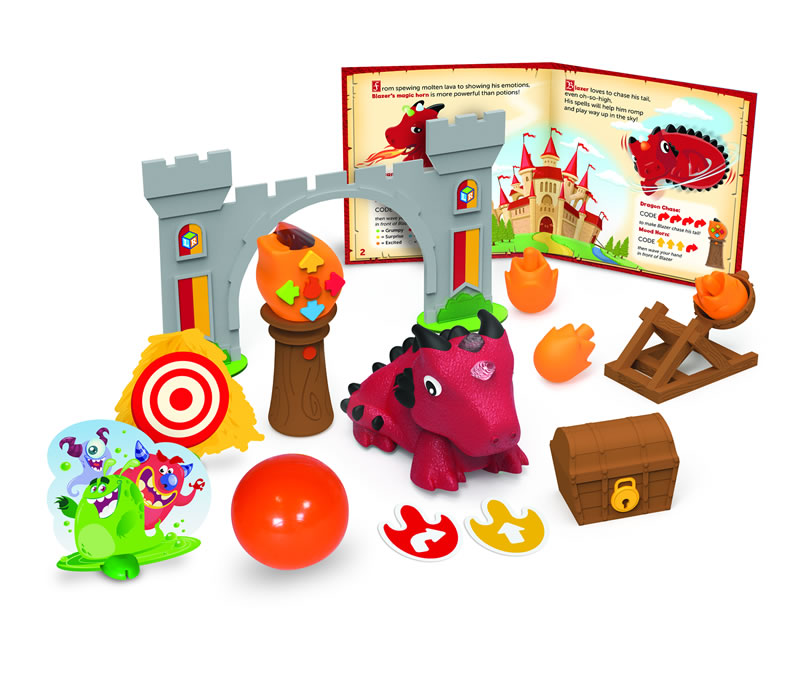 Coding Critters MagiCoders
Ages: 4 and up
Price: $54.99
Type: Toy
By
Learning Resources
Description
Coding Critters MagiCoders is a line of interactive toy pets featuring all-new mythical creatures and their accompanying playsets that are designed for kids to unlock the magic waiting inside. Children ages 4 and up can explore STEM concepts through whimsical storytelling as they cast spells with magical coding wands, and build hands-on skills, completely screen-free.

The magical adventures with Skye the Unicorn or Blazer the Dragon begin right out of the box as kids use their imagination to learn the fundamentals of coding. Press the magic wand's arrow keys to enter code sequences that move Skye or Blazer forward, backward, left or right, creating an interactive coding experience with every spell that is cast. Spell Mode allows kids to 'train' their pets to sing, dance around, light up in different colors, and 'magically' follow objects like the wand, a ball, or even their hand. MagiCoders also includes a full-color coding spell book filled with screen-free activities and playful adventures for children to follow while showcasing their newfound skills.


Review Highlights:
Beautiful and colorful fun right out of the box with the MagiCoder Dragon the Blazer being super cute to play with and inspect. It comes with many accessories, coding cards and wand. The detailed instructions are easy to understand and follow, and you only need batteries for the MagiCoder and the Wand (5 in all) to get playing. My child has been fascinated by how the dragon moves around the room and follows command sequences.
Cute, colorful, and instantly attractive to the intended audience. Playful design makes the learning fun! Also the feature where the unicorn can follow the ball was really impressive for kids and made them more attracted/engaged to the product. I really enjoyed that it is a STEM coding toy that is more girl focused with its choice of pastel colors and unicorn character. Coding has to be equal access, and inclusive. While the MagiCoder is designed to be attractive to girls, I noticed that boys weren't turned off by the design.
The product has a bright, eye-pleasing color palate, and an adorable unicorn with a light-up horn. The various pieces are made of durable thick cardboard or plastic, and are sized well for little hands. A magic wand is always a crowd-pleaser too! The spell book includes many spells to try, with color-coded pictures to follow.
The toy is suitable for wide range of ages, but the younger kids will need help operating and interacting with the Dragon toy until they learn how to use it. Overall, this is a great interactive toy that engages imagination and provides lots of screen-free play.
My boy loved Rumble and Bumble. We received Coding Critters Rumble and Bumble a few weeks ago and my 5 year old still likes to play with it - which is a great sign! It is an interactive coding toy that comes with a 20 page story. Rumble scoots along according to how you program it. This is a super simple introduction to coding but without a screen! I liked everything about it!
Coding Critters teaches basic coding (without screens), logical thinking skills, sequencing, problem solving, and provides lots of opportunities to practice reading, following directions, comprehension, spatial awareness, caregiving, teamwork, and patience.
Buy this product at:
As an Amazon Associate we earn from qualifying purchases.