Academics' Choice Award™ Winner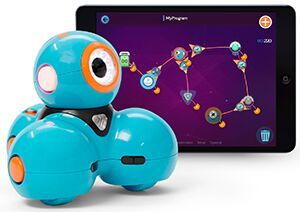 Dash Robot
Ages: 8 and up
Price: $149.99
Type: Toy, Mobile App
By
Wonder Workshop
Description
Dash is a real robot, charged and ready to play out of the box. Responding to voice, navigating objects, dancing, and singing, Dash is the robot you always dreamed of having. Dash comes with free coding apps on phones and tablets, Wonder and Blockly, doing more with robotics than ever possible. No books, assembly, or camps needed!

Review Highlights:
My daughter is learning programming skills in a very non-threatening way by using this robot. She is 15, but has never had any programming experience, so playing with Dash was a good way to introduce her to the fundamentals. Dash is recommended for ages 8 and up (5 and up for the simplest apps), but is appealing enough for teens and even adults--I spent some time playing with him too! The app's offer step-by-step instruction to get kids started, then allow free play to allow their imaginations free reign. Snap-on attachments for Dash allow Legos to be connected to make decorative or useful accessories for him, allowing for imaginative play.
Dash is absolutely adorable and seems to have a personality all his own. Right out of the box, he makes happy sounds that made us laugh (and piqued the dog's interest). Children (and adults!) can use the free apps to program sequences of moving, turning, talking, producing sounds, and blinking lights. There are 5 apps to work with at this point, so there are plenty of activities for children of all ages to use. I love that it has sparked an interest in my non-technically oriented daughter. It seems to be a pretty sturdy product too, that would hold up to the play of younger children.
There are a lot of videos and photos on the Wonder Workshop website to give ideas about ways to play with Dash, and even some free lesson plans for teachers. As a homeschooling mom, I plan to try some of these out. I appreciate that the company provides these additional resources.
Buy this product at:
As an Amazon Associate we earn from qualifying purchases.