Academics' Choice Award™ Winner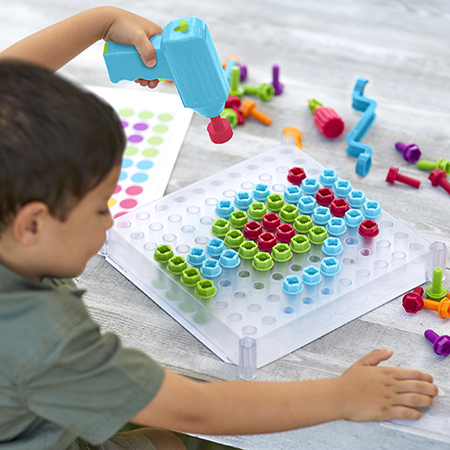 Design & Drill See Through Workshop
Ages: 3 - 6
Price: $39.99
Type: Toy, Gear & Equipment
By
Educational Insights
Description
Designing and drilling just got easier—and even more fun! Now, kids can power up the creativity with a brand-new version of the best-selling Design & Drill Activity Center! Using a kid-friendly, translucent mini-drill, hand screwdriver, or combination wrench, busy builders can drill colorful bolts directly into a see-through base, easily following the pattern card or creating their own, custom designs. Clear the way for creativity!


Review Highlights:
I used this with my preschool-age summer camp kids. It was an instant favorite. The kids ages 5 and 6 generally followed the patterns that came with the Design and Drill See Through Workshop. The younger kids, 3 and 4 year olds, just wanted to use the various tools (it comes with a drill and a screwdriver with a couple different bits) to screw in and out and create their own designs. When time came to clean up, it became a team effort to get all the screws out in time. The screwdriver came in handy. The kids played with this every day!
As a landscape architect and father of two young boys, I found this to be an excellent product. The kids loved imitating their dad, and I loved that they were learning real world skills in a safe environment while honing their fine motor skills, patience, perseverance, and building their self-expression and creativity. I loved that the drill was lightweight, includes forward and reverse, and supports multiple drill bits. The inclusion of the screwdriver was a nice touch, which gave me the opportunity to teach my kids the righty tighty, lefty loosey memory trick. The pattern cards also proved useful as getting started ideas, and helped them develop color recognition and pattern following skills. Overall I just loved that it combined play-based, expressive fun with real world application.
The product develops pattern following, color recognition, counting and number sense, fine and gross motor skills, coordination, and teamwork when done in groups.
Buy this product at:
As an Amazon Associate we earn from qualifying purchases.