Academics' Choice Award™ Winner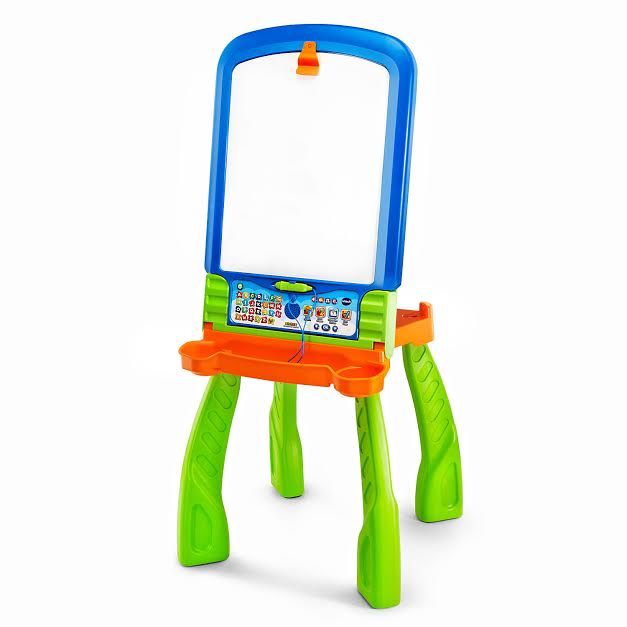 DigiArt Creative Easel™
Ages: 3 - 6
Price: $54.99
Type: Toy, Arts & Crafts, Gear & Equipment
By
VTech
Description
Learn to draw, write and more with the interactive DigiArt Creative Easel™ by VTech®! This fun, interactive easel can be transformed from a light-up dry-erase board to a chalkboard and drawing table for more ways to play, combining learning and creativity. Explore the learning activities and learn to draw more than 100 objects and shapes step-by-step by following the lights using the magic pen. Then learn letter and number stroke order for uppercase letters A-Z and numbers 1-20 stroke-by-stroke. Children can also explore their creativity and draw anything they want while listening to 10 classic songs.

Features:
Transforms from a dry-erase board, to a chalkboard and drawing table
Follow the lights using the magic pen or create your own picture
6 different activities to explore
Learn to draw more than 150 letters, numbers, shapes and objects
Includes 3 pieces of chalk
Over 40" tall


Review Highlights:
This versatile easel/chalkboard/drawing table is awesome! My 4 year old loved it. As parents we loved that it helped him with letter tracing and letter recognition. And with over 100 shapes and objects for him to explore and draw he was entralled for days. The guess the picture game was also fun for him. It's also reasonably priced for the amount of use it's getting and will continue to receive. Two thumbs up!
My boy was very excited to receive this large box in the mail! We opened it up and began putting it together. It started to get a bit difficult so we looked it up on YouTube and we found a very helpful video. He loved playing the digital art game and drawing on the whiteboard. I left him alone for nearly an hour! Although he had a lot of fun with it I think it would have been better for him a year or two back (he is 6 years old).
Buy this product at:
As an Amazon Associate we earn from qualifying purchases.