Academics' Choice Award™ Winner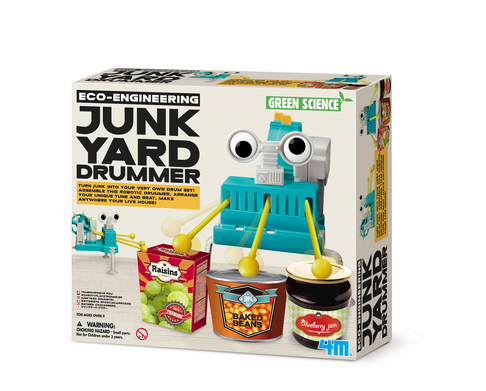 Eco-Engineering / Junkyard Drummer
Ages: 8 and up
Price: $22.00
Type: Toy
By
4M Industrial Development Limited
Description
Turn junk into your very own drum set! Assemble this robotic drummer, arrange your unique tune and beat, make anywhere your live house!

Contains a set of plastic parts assembling the beat generator, supprt stands, drum sticks, a motor, a battery case, gears, screws, moving eyes and detailed instructions. Assembled size to be about 135 x 130 mm. Also required but not included : two 1.5V AAA batteries and a small cross-head screwdriver.
Review Highlights:
After assembly children have the opportunity to create their own 'songs' based on a number of factors: placement of the pegs into the robot drummer's rotating cylinder and choice of household 'junk.'
I really liked the unique nature of the product that allows for personalization and experimentation.
Buy this product at:
4M Industrial Development Limited
As an Amazon Associate we earn from qualifying purchases.