Academics' Choice Award™ Winner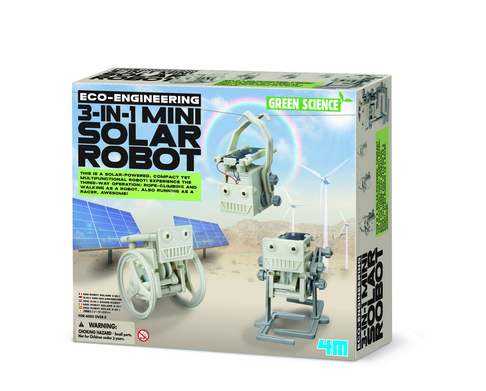 Eco-Engineering / 3-in-1 Mini Solar Robot
Ages: 8 and up
Price: $22.00
Type: Toy
By
4M Industrial Development Limited
Description
This is a solar-powered, compact yet multifunctional robot! Experience the three-way operation: rope-climbing and walking as a robot, also running as a solar vehicle. Awesome!

It contains hook x 2, gearbox cover, faceplate, baseplate, wheel x 2, solar panel support, link arm x 2, cam wheel x 2, foot x 2, leg x 2, connector x 8, solar gearbox, motor with wires, solar panel, string, screws and detailed instructions. Also required but not included: a small crosshead screwdriver.
Review Highlights:
The 3-in-1 Mini Solar Robot is a quickly assembled and versatile little robot. It is initially assembled in less than 15 minutes and provides (potentially) hours of fun. The use of solar power makes this robot especially cool!
There were 3 designs to choose from, and it was easy for my 9 year old to figure out on his own.
My students were captivated and learned about following directions, solar energy, and robotics!
Buy this product at:
4M Industrial Development Limited
As an Amazon Associate we earn from qualifying purchases.