Academics' Choice Award™ Winner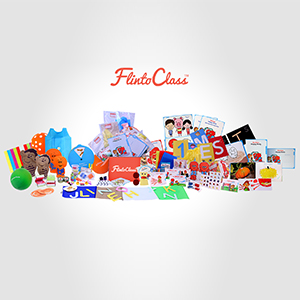 FlintoClass
Ages: 1.5 - 5.5
Price: INR 500/child/month
Type: Toy, Book, App, Arts & Crafts
By
Flinto Learning Solutions Pvt. Ltd
Description
The mission of Flinto is to revolutionize the way children around the world learn and play. For this, we create products, tools, content and activities that promote rich early experiences.

FlintoClass is a patent-pending, revolutionary preschool system that packs everything needed to run a preschool to be delivered to the subscribers' doorsteps every month.

The comprehensive package consists of a holistic curriculum taught through auditory-visual-kinesthetic techniques, hourly lesson plans and materials for every child, teacher training resources, child tracker app and much more. In addition to the monthly kit, FlintoClass provides 360-degree support and guidance to the preschools all through the year.

The award-winning curriculum inspired from the best of Waldorf, John Dewey, Multiple Intelligence and Play-way learning systems provides 575+ unique multidisciplinary experiences to children. With FlintoClass, early learning has been standardized to deliver the same quality of education no matter where it is used - be it in a state-of-the-art school or even under a tree. In a nutshell, FlintoClass is 'Preschool in a Box'.

Since its launch, FlintoClass has changed the way over 15,000 children learn in 500+ preschools.


Review Highlights:
FlintoClass combines scripted, easy to implement, lesson plans for teachers (including online teacher training and classroom resources) with play-based, exploratory activities for young children that develop motor skills, memory, creativity, social skills, language skills, and emotional skills. We love the focus on learning through play, which is a child's most natural way to learn, and fosters creativity, curiosity, and imagination.
This integrated curriculum (inspired by Germany's Waldorf Education system, the Montessori method, and the Playway method) is child centric and imparts a love of learning through arts and crafts, music, stories, games, and hands-on explorations. The monthly boxes provide 20 days of activities for preschool teachers, all conveniently packaged for each child with corresponding teacher manuals and resources. The approach saves teachers a ton of time - no more cutting, pasting and preparing - and allows teachers to focus more on providing individualized and differentiated instruction.
A typical FlintoClass day involves an arrival activity focused on unstructured exploration of activity areas followed by an energizer activity, which are ice breakers of sorts designed to get the kids, moving, talking/singing, and socializing. Next comes an interactive activity where students learn and repeat rhymes, listen to a story and imitate the characters (we received a story about body science), or join in a group free play activity. After a snack break, which also involves the kids preparing and serving, the curriculum jumps to an explore activity that involves sensory, hands-on invesigations into the natural world. The final activity of the day focuses on solving puzzles and logic games in small groups. Each day students usually take home a completed project to show their parents.
FlintoClass simplifies the process of running a preschool without compromising on quality. The clever approach works for both aspiring entrepreneurs who want to start their own affordable preschool and also works as a supplement within existing preschools. The program started in India and is now available in Singapore, Malaysia, Qatar, UAE, Laos, Indonesia, and Kuwait. We hope that it will soon be availble in the United States.
Eight-tentacle approval for the orange octopus called Flinto!
Buy this product at:
As an Amazon Associate we earn from qualifying purchases.