Academics' Choice Award™ Winner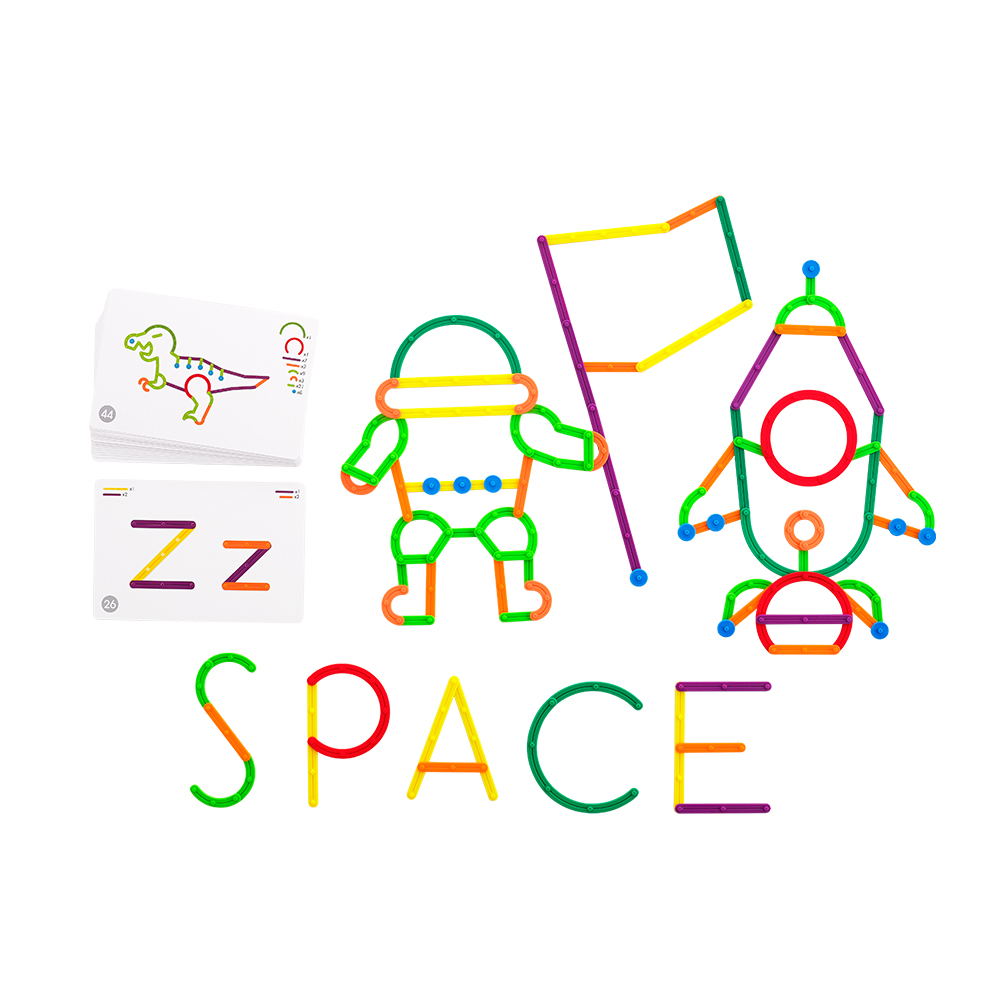 GeoStix Letter Construction Set
Ages: 3 and up
Price: $29.99
Type: Toy
By
Edx Education Co Ltd
Description
The Junior Geostix are designed for 3yrs + to play, learn and create designs from letters, numbers and so much more. Children will explore with the different sized GeoStix. Ideal STEAM product, linking engineering, art and mathematics. It will stimulate children's imagination and creative thinking skills.

Hands on learning, improve fine motor skills and develop creative thinking skills while playing with this letter construction set. Have fun developing early childhood skills in creative thinking, problem solving skills.

Unique and versatile educational tool, the straight and curved flexible sticks snap together very easily, and in doing so, endless creations (including creations with moving parts) are created by students of all ages.

Teach children letters and their attributes with this construction set! Use these connecting sticks to build uppercase and lowercase letters A-Z, spell basic words and practice sentence building. High-quality learning toy.

These hands-on, visual manipulatives foster creativity and demonstrate a variety of fundamental literacy concepts. The activities inspire play-based learning to make teaching fun! Designed for endless creativity, With multiple connection points and varying sizes, these flexible connecting sticks create colorful 2D and 3D objects. Make a rocket, camera, owl and so much more! 200 sticks and 50 activities - this literacy and creativity resource includes 200 curved and straight connecting sticks in 10 sizes and 7 colors. Construct letters and designs with 25 double-sided activity cards.


Review Highlights:
These clickable sticks easily snap together allowing for a frustration-free, engaging, and playful experience that can be open-ended or guided with the color-coded activity cards. We love these multisensory manipulatives for their ease of use, interdiscplinary/cross-curricular nature, and that they develop lower-order, higher-order, and creative thinking skills.
The GeoStix Letter Construction Set has been so fun for my twins! It's important for me as their mom to find activities they can do together, and this set comes with plenty of pieces for them to share. There are two hundred sticks they can use to create fun designs or practice writing their letters in fun, bright colors. I prefer open-ended toys like these that provide them with just enough instruction that they can follow along with the activity cards or create something themselves.
I am a nanny for two different families and I love bringing these along with me to the job. The three year old and four year olds I work with really enjoy playing with these fun shapes and colors, and creating something new every day. They can follow along with the activity cards included that show kids how to re-create a fun design such as a dinosaur or letter of the alphabet, or they can simply use their imagination to design something of their own. The parents love it too because it helps them develop their motor skills and encourages creative play.
Buy this product at:
As an Amazon Associate we earn from qualifying purchases.