Academics' Choice Award™ Winner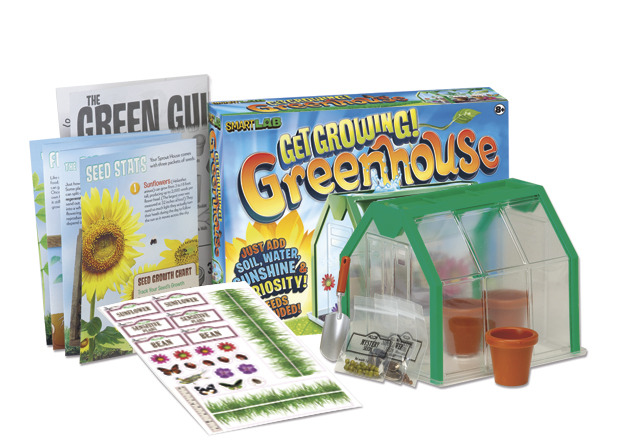 Get Growing! Greenhouse
Ages: 8 and up
Price: $14.99
Type: Toy
By
SmartLab Toys
Description
Discover the science of plants with this innovative self-watering greenhouse. Add soil, water, sunshine, and curiosity to grow a sunflower, a plant that is sensitive to touch, and a bean. Water the plants using the drip- drop watering system, and chart the growth of each plant by filling in the Seed Growth Chart as the seeds sprout and grow. Read the booklet included in the package to discover the answers to scientific plant questions such as how plants defend themselves and why people need plants to live. When the plants have outgrown the mini flowerpots, learn how to transplant them into the garden, then choose new seeds to grow in the Get Growing! Greenhouse.


Review Highlights:
Get Growing! Greenhouse teaches how to grow your own plants and how plant grow. It was interactive. My children thought the small structure of the greenhouse and it's components were cute. It was exciting to watch the plants grow. I have grown sensitive plant from seeds before and I was surprised this kit did not say to soak the seeds first. Yet, we have two plants currently growing in the greenhouse. The bean and sunflower plants were too tall for the greenhouse in under two weeks!
The work was definitely worth it because my 5 year old and I really enjoyed 'shoveling' the potting soil (NOTE: YOU supply the soil!) into the little pots, planting the Sunflower, Sensitive Plant and Mung Bean seeds and then covering them with soil. The real unique quality of this educational toy is the watering system. Just fill the drip tray at the top of the greenhouse and voila! The water slowly drips down into the pots.
Buy this product at:
As an Amazon Associate we earn from qualifying purchases.