Academics' Choice Award™ Winner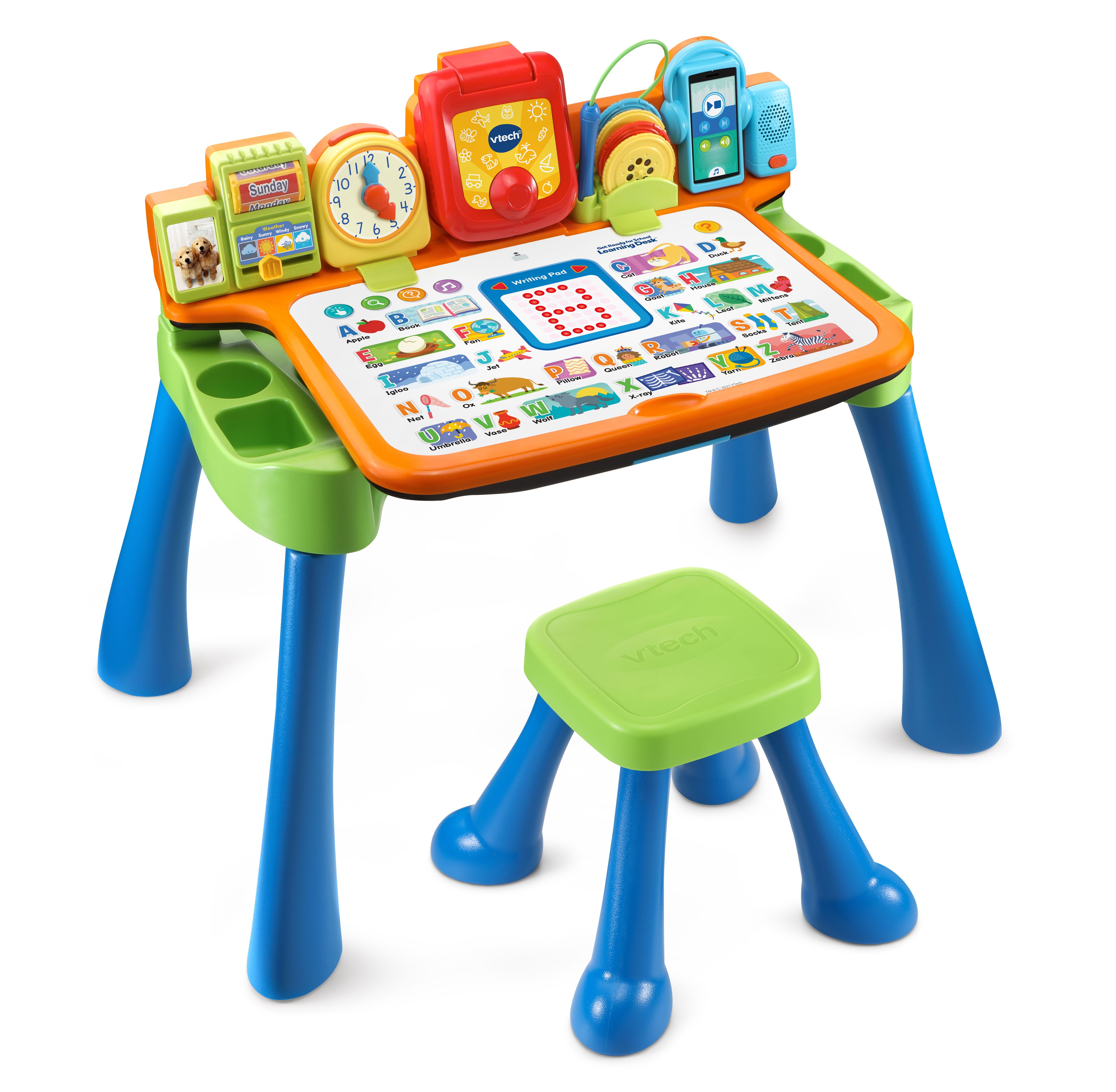 Get Ready for School Learning Desk™
Ages: 2 - 5
Price: $57.99
Type: Toy, Arts & Crafts, Gear & Equipment, Audio
By
VTech Electronics North America
Description
Inspire a love for learning with the Get Ready for School Learning Desk™! This 5-in-1 flexible learning center and stool includes an interactive desk top, projector, LED writing pad, chalkboard and art station. Discover 200+ touch-and-learn spots on five interactive activity pages. Explore the alphabet, numbers, counting, music, shapes, colors, the human body, clothes and weather. Use the unique projection system with the four color-coded projection reels to trace images and practice drawing or learn about shapes and the human body with the corresponding activity pages. Let's write! Follow the lights to learn to write letters and numbers stroke by stroke with the interactive writing pad and attached stylus. Flip the desk top up to reveal a chalkboard and easel. Get creative! Add background music with the included music player featuring 30+ songs and melodies. Learning on a sunny Wednesday afternoon? Spin the roller to select the day of the week, then move the weather slider to sunshine. Set the hour hand on the desk top clock to explore and practice time concepts. It's a good day for learning!


Review Highlights:
We loved everything! This Learning Desk covers ALL the bases of learning - from great classical music to tracing pictures with a mini "projector" to drawing with chalk. It's amazing!
This product is recommended for ages 2-5 but ALL of my kids love it; ages 1 through 8! It's a fantastic interactive, exploratory toy for young children to start learning foundational skills and concepts.
My three year old has gotten so much use out of this interactive Learning Desk from VTech - it's designed for preschoolers and children as young as two years old who are eager to practice their ABCs, improve their counting and reading skills, learn about different colors, our bodies, shapes, and the weather, and finally, sing along to nursery rhymes. The Get Ready For School Learning Desk includes a projector that displays images for children to practice tracing with the stylus, as well as drawing as they learn about different subjects. If you turn the desktop upright, it transforms into a chalkboard for art activities. There are also activity pages that guide children as they learn about numerical orders, music, and letters.
Children practice early reading skills, counting, music, creativity, days of the week, telling time, colors, ABCs, shapes, anatomy, weather, and more!
Buy this product at:
As an Amazon Associate we earn from qualifying purchases.