Academics' Choice Award™ Winner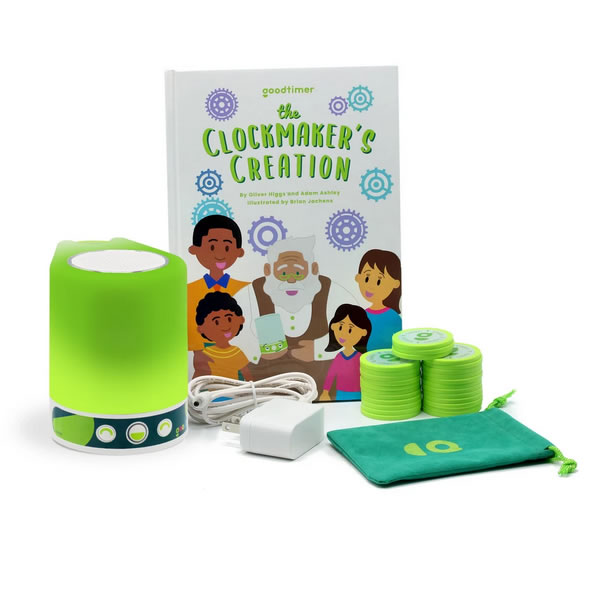 Goodtimer
Ages: 3 - 10
Price: $79.95
Type: Toy
By
Plus Up, LLC
Description
Goodtimer is a new educational toy that encourages kids to form healthy habits using positivity, tangible incentives, and family participation. Kids respond to Goodtimer's brightly glowing lights and encouraging voice, with game-style functionality that's interactive and simple enough for toddlers to understand. With Goodtimer's patented approach, kids earn 'Good Time' by following the family's house rules. Once enough Good Time is earned, Goodtimer dispenses tokens they can exchange for fun incentives decided by the family. The result is one easy-to-use educational product that provides children with a consistent framework for success.


Review Highlights:
The GoodTimer by Plus Up is a fantastic visual, auditory, kinesthetic device that promotes good behavior from kids. There are many good habits that can be supported using this device: behavior management, association of cause-effect, executive functioning skills, and carryover of self-control from home to school environments. As an educator, I am often asked by parents if I could recommend a behavior management system for home use. I will definitely be recommending the Goodtimer!
The system arrives in a sleek package. There are easy to follow instructions so parents can start right away. There is a fun, rhyming storybook about the Goodtimer that my daughter immediately connected with. It was easy to reference as a family guide when questions arose, too.
The Goodtimer has many resources, videos, and practical tips on their website GoGoodtimer.com/resources. This is helpful for parents to review on their own, giving them more confidence in decision-making for behavioral challenges. Encouraging good behavior in children is not always a fun topic for families. Speaking from experience, talking to kids about challenging behaviors is often met with whining, fussing, and poor compliance. The Goodtimer allows kids to feel "in control" while maintaining healthy attitudes about their own skills.
Parents get tired of intervening in their kids' daily (sometimes hourly!) arguments and disputes. The GoodTimer clock gives the kids' the motivation they need to work these disagreements out for themselves. The Goodtimer also encourages kids to work toward goals, accomplish chores and daily tasks in a timely manner without needing parents to stay on top of them every minute. Kids are prompted to monitor themselves and benefit from the rewards they receive from the GoodTimer. Parents can choose a variety of rewards and variety of times to achieve a reward based on age and maturity level.
As a parent, I like the idea that I don't have to monitor my kids at every moment to make sure they are accomplishing their tasks and cooperating with each other. All of us are happier when I don't have to lose my temper to motivate them to accomplish their simple chores for the day. I also like that they have to earn the rewards to be able to do the things they would like to do anyway each day. This way they aren't having too much screen time or overindulging in sweets or snacks. The GoodTimer empowers my kids to make decisions for themselves and to learn from the consequences of their decisions, whether those positive or negative.
The Goodtimer is small, portable, and kid-friendly. Children learn and practice motivation, staying on task, following directions, schedule following, behavior, rule-following, executive functioning, rewards/consequences, decision-making, discipline, motivation, kindness, selflessness, generosity, achievement, self-control, persistence, goal-setting, willpower, and more!
Buy this product at:
As an Amazon Associate we earn from qualifying purchases.