Academics' Choice Award™ Winner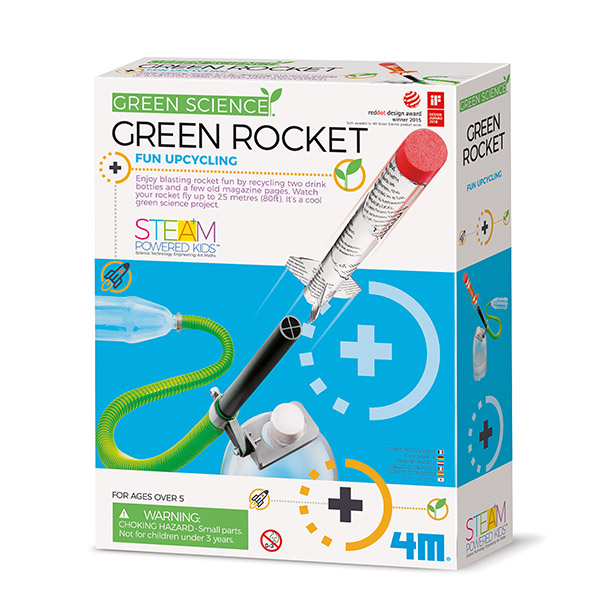 Green Science-Green Rocket
Ages: 8 and up
Price: $12.00-$14.00
Type: Hands-On Toy
By
4M Industrial Development Limited
Description
Mad from trash, powered by green energy. Enjoy blasting rocket fun by recycling two drink bottles and a few old magazine pages. Stamp on the empty bottle and watch your rocket fly up to 25 metres (80ft). Learn the underlying physics.
Review Highlights:
We had a wonderful time assembling the rocket. It flew so much higher than I thought it would!
My child learned about how to follow detailed directions and a bit about physics as well. To start with, this is a green, environmentally friendly product which big thumbs up for me. The Green Rocket came with rocket & fin templates, foam heads, and launch tubs but we found that you need 2 recycled bottles, a recycled magazine, screwdriver, tape and scissors. After gathering these extra materials around the house, my son and I went to work. In about 30 minutes we were ready to go out and try our Green Rocket. We were so happy when it lifted off. It must have gone 50 feet in the air before it made its way back down! This rocket really got my son excited about science. I highly recommend the Green Rocket!
Buy this product at:
4M Industrial Development Limited
As an Amazon Associate we earn from qualifying purchases.