Academics' Choice Award™ Winner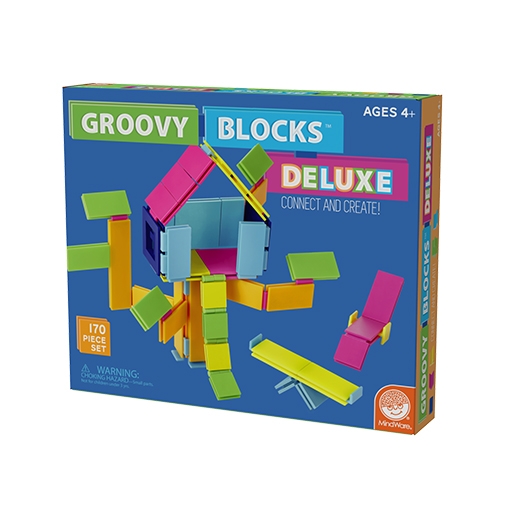 Groovy Blocks: 170 Piece Set
Ages: 4 and up
Price: $34.95
Type: Toy
By
MindWare
Description
How can you build a house, retail shop, barn, swimming pool, or virtually any structure or sculpture imaginable? Get in the groove! Groovy Blocks building toys feature pieces that are grooved on all four sides for endlessly flexible construction possibilities. Simply slide the grooved building and engineered link pieces together to create super satisfying, sturdy connections. Large squares create roofs and floors with ease. Hinge pieces make doors and window shutters that really work! Kids looking for a new twist on construction toys will think they're groovy!

• Develops creativity and problem solving skills
• Builds fine motor skills and hand-eye coordination
• This set includes new shapes not included in the 120-piece set
• 170 grooved building blocks and links, plus instruction guide

Review Highlights:
Students enjoyed building and creating with the blocks. My students used the blocks to create attachments for robots. Students used the design thinking process as they planned and built their structures.
The unique groove connectors enabled students to create different types of structures. The blocks were easy to connect and easy to take apart. There were enough different sizes and shapes to build what students envisioned.
A Perfect 10! This is an excellent creative play construction toy.
Groovy Blocks definitely develop problem solving and creative thinking. My children were able to design a wide range of items using these products. It was more difficult for my youngest (age 4), but it was thoroughly enjoyed by my eleven year old.
Buy this product at:
As an Amazon Associate we earn from qualifying purchases.