Academics' Choice Award™ Winner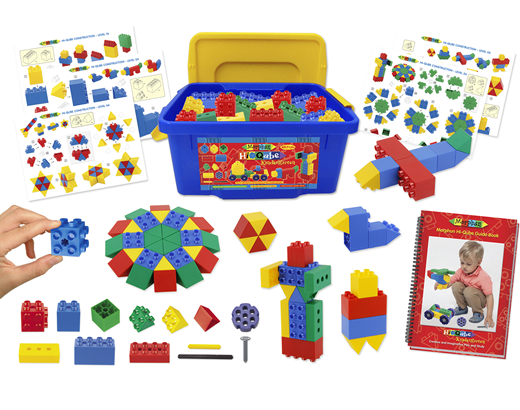 Hi-Qube Kindergarten 150 Set with Guide Book
Ages: 2.5 and up
Price: $59.00
Type: Toy
By
Thinkplay Ltd. T/a Morphun Education
Description
Morphun are delighted to announce Hi-Qube, their newest and youngest age construction product.

This set is easier for younger ages than Morphun Starter as it leaves out the sliding side joiner. In line with our target that sets have educational value for at least 4 age groups, this set will entertain children as young as 30 months, well as challenge 6 year olds.

We have created cubes and prisms with studs on up to three sides that join to Morphun and other brick products. Unlike traditional studded bricks products Hi-Qube is multi-directional in build not just vertical, has wheels and axles, and has loads of instructions for models. Pre-School sets are supplied with instruction levels 1-4 and Kindergarten instruction levels 1-6. All sets will also include optional part or full Guide book.


Review Highlights:
We all loved these blocks. They have basic colors, and basic shapes, but the blocks are unique. Some blocks have studs on the top and sides, some don't have any at all, and the wheels have multiple spots for the pegs. You can use them to make lots of shapes. My older son immediately made a car, and it has been his favorite toy this week. My toddler has mostly made hammers and just enjoys putting the pieces together. My daughter made animals, dinosaurs, and a collection of wands.
Great way to teach problem-solving.
My toddler learned and practiced fine motor skills, hand-eye coordination, creative play, color and shape identification. My older children learned problem solving, creative play, planning, lateral thinking, cooperation, communication skills, and mathematical thinking. While using the guide, they were able to follow the picture instructions on how to build various things, such as ducks, trains, trees, and wands.
Buy this product at:
As an Amazon Associate we earn from qualifying purchases.