Academics' Choice Award™ Winner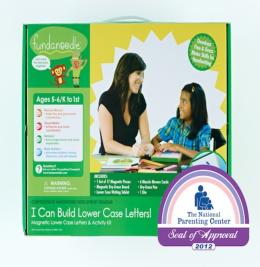 I Can Build Lowercase Letters! Activity Kit
Ages: 5 - 6
Price: $29.99
Type: Hands-On Toy, Workbook
By
Fundanoodle
Description
This novel teaching approach encourages children to use their bodies as well as their brains to learn the alphabet. Teachers and therapists endorse this innovative, multi-faceted effort, which includes a simple game to help get the wiggles out. Students then work with specially-designed magnetic strips to build their letters before learning to write the letter in the accompanying workbooks. Students who have previously struggled with learning their letters enjoy showing off their new-found skills and accomplishments on the included dry erase board.
Review Highlights:
We just loved working with Fundanoodle's, Magnastix! My little guy spent more than an hour exploring the box of materials before I got in there to teach something a bit more formal. This product gives the child multiple sensory opportunities to learn about lower case letters. I'll be using this one for the next school year!
Magnastix is an exceptional product. It includes so many different learning styles in its exercises that many many learners will grow from using this product. The mechanical shapes and how they are put together is a great starting point. Children can see how the same shapes get used over and over in different organization to make letters. When it is time to write the letter, the shapes get broken down again and the child has more incremental pieces to work with rather that feeling overwhelmed with making a whole letter look like print. My six year old boy was a perfect tester for this product because he could write letters, but like many children would not create the shapes in the right order or direction. The workbook and the fun sounds appealed to him and helped him get passed starting from the bottom or circling the wrong direction. "Zip, buzz, bump, zoom, hop, and dot" also have this auditory component of learning that especially appeals to my son. Practing was more like a game and really fun. There was no whining involved. Sometimes we just play with cards and act like animals. This gets his 3 year old sibling involved too. Then we can spell the animal name with the magnastix as well. We found that the cards don't have numbers on them and that would help with number practice as well. The magnastix can make almost all the numbers as well shy the number "8." Our family loves this product and I think it will be used again and again by both of our young children!
Buy this product at:
As an Amazon Associate we earn from qualifying purchases.