Academics' Choice Award™ Winner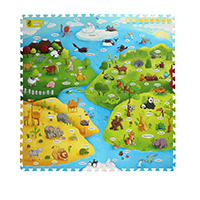 i-Mat: My Animal World & Voice Pen
Ages: 18 months and up
Price: $79.99
Type: Hands-On Toy, Electronics
By
Creative Baby Inc.
Description
Creative Baby i-Mat teaches 3 languages (English, Spanish and Mandarin Chinese). Features basic and advanced games, real animal sounds and music. Teaches vocabulary and comprehension and uses Voice Pen™ with 2 GB memory whose USB port allows future expansion capability.


Review Highlights:
I have not seen my 3-year-old more excited to open a new toy and get started playing it. He really enjoyed puzzle building the 4 piece mat together. It was very important to find the batteries right away and start using the pen. Identification was fun, but more appropriate for a 1 and 2 year old. The games on level 2 really started him thinking about animals and how they live in different environments. The bonus was learning phrases and animal names in Mandarin and Spanish! Just hearing the different phonemes was great for his growing brain. We also found that the I-MAT doubles as a gymnastics mat. Its durable and easy to clean. We're looking forward to downloading other upcoming versions of the mat.
The i-Mat is brilliant! My 3-year-old and I have been learning and having so much fun! This product deserves an award!
Buy this product at:
As an Amazon Associate we earn from qualifying purchases.