Academics' Choice Award™ Winner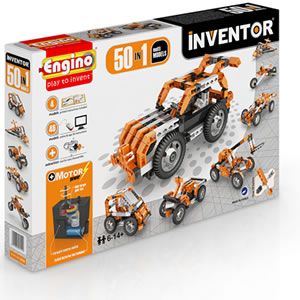 INVENTOR Special Edition - 50 Models Motorized Set
Ages: 6 - 14+
Price: $50.41
Type: Toy
By
Engino.net LTD
Description
The multi-model capability of ENGINO TOY SYSTEM increases geometrically as the number of parts contained in the sets also increases. The inventor motorized series is the ultimate range and it is more suitable for intermediate and advanced users who literally "play to invent". The models created with these sets are bigger and more elaborate and also incorporate technical features. Models are brought to life once animated with the high torque geared motor included. Motor is also connectable to the ENGINO solar panel, found in other sets or bought individually. The 50 Model Motorized set contains instructions for 4 models and the rest can be downloaded free from http://www.engino.com.
Review Highlights:
Engino's INVENTOR Special Edition - 50 Models Motorized Set will take hold of your child's creativity and problem solving skills and leave them captivated for hours. Intermediate and advanced builders will invent up to 50 motorized vehicles to their liking. This amazing educational toy exercises children's ability to create, problem solve, follow directions, and develop a sense of engineering and mechanics.
We loved everything about Inventor. My 8 year old boy's eyes lit up when he saw the box. He was gone for about 2-3 hours and came back with a working car! He was excited and so proud of his accomplishment. I think this really boosted his confidence as a young engineer. - Bill, teacher/parent, MA
Buy this product at:
As an Amazon Associate we earn from qualifying purchases.