Academics' Choice Award™ Winner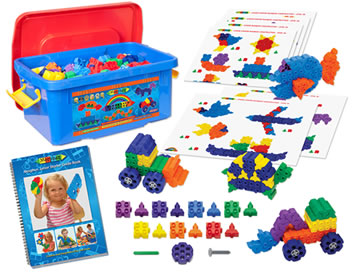 Junior Starter Rainbow 400 Set with Guide Book
Ages: 3 and up
Price: $85.00
Type: Hands-On Toy
By
Thinkplay Ltd. T/a Morphun Education
Description
This colourful set has 400 of our patented side joining 'rainbow' coloured bricks. It is supplied with 6 incrementally difficult A3 instruction sheets of shapes & models to make and our 'Guide Book' with 60 more pages. The side joining Squares and Triangles can build hundreds of models and provide many months of structured learning activities that will introduce children to their first engineering concepts in class or at home. All pieces are child safe for under 3ís.
Review Highlights:
My children were able to practice following directions because of the included guidebook, but they also had the freedom to create their own structures. I love that this product gives them creative flexibility, but also provides ideas to jumpstart their creativity and their desire to play.
I love how many pieces are in the box. I love that they can be stacked together, like Legos, but there is an added dimension to the building because of the way they interlock on the sides. This is a great product for preschoolers and early elementary students. We will get many years of play from this product, for multiple kids, because it is both durable and timeless.
Buy this product at:
As an Amazon Associate we earn from qualifying purchases.