Academics' Choice Award™ Winner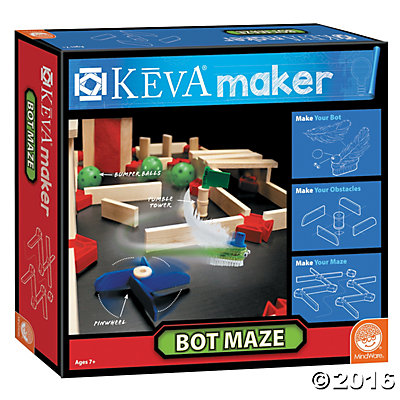 KEVA Maker Bot Maze
Ages: 7 and up
Price: $35.95
Type: Toy
By
MindWare
Description
Calling all creative thinkers and curious minds—it's time to tinker! The KEVA Maker Bot Maze lets you experiment, innovate and create with precision-engineered KEVA planks and a variety of doodads and gizmos! Customize a pair of motorized bots using crafty items found within this one-of-a-kind kit. The more unique looking, the better! Then construct your maze's tunnels, doorways, passages and obstacles from the planks and connectors, or by gathering things you have around the house. KEVA Maker Bot Maze is the ultimate engineering tool—watch in awe as your personalized bot zooms through your hand-crafted maze! Creativity is the key to becoming a master maker. What will you create?

• Strengthens understanding of design, strategizing and proportion
• Creativity meets building
• 30 KEVA Planks, 8 KEVA half planks, 25 connectors, 2 motorized bots, 6 tumble blocks and 3 bumper balls
• Googly eyes, pipe cleaners, feathers, pom-poms, glue dots, tape, string, felt and craft foam

Review Highlights:
Students enjoyed using the Keva planks to create a maze. There were so many creative ways they could build the maze. As a teacher I was able to challenge students to incorporate specific angle measurements into turns. The planks were easy to put together with the connectors. When given time to free explore, students enjoyed building 3d structures and discussing which structures were stronger. There were so many STEM concepts that can be incorporated play.
Students loved designing bots and exploring which bots moved faster and more accurately. They enjoyed the opportunity for maker thinking. But the highlight of the product is the Keva planks! So many great opportunities for STEM thinking.
This is a great product for home use or small group classroom use. I highly recommend it!
It is an engaging and creative product. Putting together natural products (Keva Planks, of which we are already fans) with connectors and shortened planks ~ was pleasing to the eye and the hand. My son had fun following the directions, and then branching out to his own designs. The feeling of success/accomplishment when the bot made it through any of the mazes and past obstacles was very apparent. I appreciate the draw away from things electronic, and this particular product has that kind of pull! I loved that everything was included to decorate the bots (if so desired... even down to the glue), and make a variety of obstacles. Open ended suggestions for both in the product sheet to stimulate creativity. And... lest I forget, sometimes the small things matter... I love the packaging... the partitions in the sturdy box make for easy clean up and storage.
My son was fascinated by the "vibrating toothbrush" bot and the way the vibrations made it move. He enjoyed creating a variety of mazes, both following directions and coming up with his own. He found the connectors a little difficult to use at first, but quickly got the hang of it. His excitement when opening the package up was delightful to see... and again, anything that pulls him away from a computer screen and causes him to use his brain while playing is a GOOD thing.
Buy this product at:
As an Amazon Associate we earn from qualifying purchases.