Academics' Choice Award™ Winner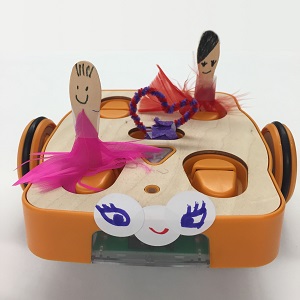 KIBO - The Screen-Free STEAM Robot Kit for PreK-2nd Grade
Ages: 4 - 7
Price: $149 - $590
Type: Toy, Arts & Crafts, Game, Electronics, Gear & Equipment
By
KinderLab Robotics, Inc.
Description
KinderLab Robotics is the creator of KIBO, the playful and creative STEAM coding robot kit. Based on 20 years of child development research, KIBO lets young learners, ages 4 to 7, create, design, decorate and bring their own robot to life with screen-free, hands-on programmable robotics.

For educators, KIBO enables their students to meet their computer science standards through creative coding, arts, and imaginative play. KIBO puts age-appropriate learning technology into students' hands to be used with teacher support as well as parent engagement — whether in the classroom or at home. Even the youngest students can learn STEAM concepts—such sequencing and coding—and bring their robots to life in a fun and engaging way.

KIBO can easily be integrated into existing instruction to enhance any curriculum or theme and engage their young students to learn STEAM concepts. KinderLab also offers a complete suite of teaching materials that help educators incorporate STEAM elements into a wide range of curricula, including art, cultural studies, and reading literacy.

KIBO is entirely screen-free, as young children program their robot with "tangible code" made of wooden blocks. With KIBO, they engage in learning STEAM concepts through physical play and creative self-expression. With art and engineering, students transform KIBO into imagined animals, vehicles, storybook characters, and more.

Young children learn by doing. When children build, code, and decorate their own robot, they perceive it as play, but they are learning invaluable STEAM skills. Not only are these hands-on experiences inherently rewarding, but they help children understand the technology in their world and leads them on the path for future success.

KIBO research results include (https://kinderlabrobotics.com/research-articles/):
1) Improved Sequencing Ability - PreK-Gr2 students' performance on assessments of sequencing ability improved from 20-35%.
2) Improved Computational Thinking with Concrete Tools - Children performed 27% better than children using screen-based tools.
3) Counteracting Harmful Gender-Based STEM Stereotypes - 2/3 of girls expressed an interest in engineering careers — equal to boys.

KIBO is used in 60+ countries and has proven efficacy in helping kids learn STEAM—and getting them excited about it!


Review Highlights:
KinderLab Robotics has created a wonderful answer to the need for early age STEAM learning. KIBO was designed for children to build and code without requiring screen time. I repeat, without screen time! This element really sets KIBO apart from the rest. Currently, children get more screen time, due to distance learning, than any other time in history. With KIBO, kids can enjoy hands on and experiencial learning at their finger tips. We excitedly opened up the package to find a half contrustructed robot. After going through the easy to follow directions, we were up and running in just a few minutes. My seven year old was able to program using wooden blocks (nice addition) in a particular sequence. I left the room to let him explore, came back 10 minutes later, and he was trying to make KIBO climb up a pile of books. Excellent! We spoke about programming and computers and even how his video games work. KIBO sparked a great conversation that led my boy into associating programming, engineering, and technology with not only KIBO, but everything around him. This robot would be a wonderful addititon to any STEAM classroom or a child's bedroom.
A fantastic introduction to coding. This product would be excellent in a classroom setting where kids 4-7 can get an introduction to coding. Having a "start" code and ending with a "stop" code with commands in between teaches the basics of coding to students in a very concrete way. For those who might find coding and ideas within a computer too abstract, this gives a great visual for the ideas. It's like bringing in a model of a molecule to the classroom to help with the visualization of something too small to comprehend for those without an electron microscope. This robot helps to visualize the concepts of beginning and ending a string of commands.
It is a durable, hands-on activity that can be used for years. It can range from very easy (one or few commands) to complicated (up to 21 commands or more), even using "If..." statements, time with infinity, movement, sound and light commands and more.
My children, ages 7 and 9, played with it for 3 hours straight the day we got it. They loved the throwing mechanism, the drawing option and the challenge of using many commands appropriately to the "rules of coding". The challenges were great for problem solving and recognizing "user error" over "there is something wrong with this thing." There are more instructions online but the ones that come in the box are sufficient to get a great start on coding the robot. It was fascinating the machine could "hear" commands as well with its ear attachment. There is much to learn from this KIBO STEAM Robot.
I highly recommend this product. The coding adventures teach cooperation, coordination, reading, problem-solving, logic, organization, and much more!
I highly recommend this STEAM robot. It would be a valuable asset to any classroom.
Buy this product at:
As an Amazon Associate we earn from qualifying purchases.