Academics' Choice Award™ Winner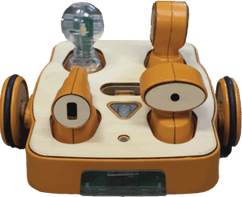 KIBO - The Screen-Free STEAM Robot Kit for Children 4 - 7
Ages: 4 - 7
Price: $199 - $499
Type: Toy
By
KinderLab Robotics, Inc.
Description
KinderLab Robotics is the creator of KIBO, a screen-free robot kit based on 20 years of child development research, that lets 4- to 7-year-olds build, program, decorate, and run their own robot. Created by Professor Marina Bers at Tufts University, KIBO is used in 55 countries with proven efficacy in helping engage young students to learn STEAM concepts—and getting them excited about it!

For educators, KIBO can easily be integrated into the classroom to enhance any curriculum or theme and engage their young students to learn STEAM concepts. Because KIBO is hands-on, even the youngest students can learn STEAM concepts—such sequencing and coding—and bring their robots to life in a fun and engaging way. KinderLab also offers a complete suite of teaching materials that help educators integrate STEAM elements into a wide range of curricula, including art, cultural studies, and reading literacy.

KIBO's open-platform design empowers students to imagine and create their own robot. Students plan a coding sequence using programmable wooden building blocks (like designing a program), scan the blocks with KIBO to tell the robot what to do, and decorate their creation. Then they just press a button and the robot comes alive—all without requiring screen time on PCs, tablets, or smartphones.

Designed for open-ended play, KIBO lets kids make almost anything they can think of: a character from a story, a carousel, a dancer, a race helicopter. KIBO encourages pre-K-2 students to be excited about further exploration in science, technology, engineering, arts, and math! With KIBO, young children will learn the skills they need to become programmers, engineers, designers, artists, dancers, choreographers, writers, and more!

For older students, KIBO provides experiential learning of forces, motion, and energy in a playful and exciting way. KIBO is different than any other robotic kit because it appeals to both technically minded kids and those who connect more to arts and culture or physical activity. Young children learn by doing. KIBO gives these students the chance to make their ideas physical and tangible.


Review Highlights:
A fantastic introduction to coding. This product would be excellent in a classroom setting where kids 4-7 can get an introduction to coding. Having a "start" code and ending with a "stop" code with commands in between teaches the basics of coding to students in a very concrete way. For those who might find coding and ideas within a computer too abstract, this gives a great visual for the ideas. It's like bringing in a model of a molecule to the classroom to help with the visualization of something too small to comprehend for those without an electron microscope. This robot helps to visualize the concepts of beginning and ending a string of commands.
It is a durable, hands-on activity that can be used for years. It can range from very easy (one or few commands) to complicated (up to 21 commands or more), even using "If..." statements, time with infinity, movement, sound and light commands and more.
My children, ages 7 and 9, played with it for 3 hours straight the day we got it. They loved the throwing mechanism, the drawing option and the challenge of using many commands appropriately to the "rules of coding". The challenges were great for problem solving and recognizing "user error" over "there is something wrong with this thing." There are more instructions online but the ones that come in the box are sufficient to get a great start on coding the robot. It was fascinating the machine could "hear" commands as well with its ear attachment. There is much to learn from this KIBO STEAM Robot.
I highly recommend this product. The coding adventures teach cooperation, coordination, reading, problem-solving, logic, organization, and much more!
I highly recommend this STEAM robot. It would be a valuable asset to any classroom.
Buy this product at: