Academics' Choice Award™ Winner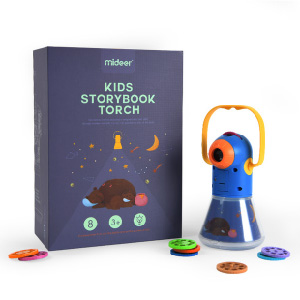 Kids Storybook Torch
Ages: 3 and up
Price: $28.80 USD
Type: Toy, Book, Gear & Equipment
By
Ningbo Mideer Toys Co., Ltd.
Description
The creative idea of the KIDS STORYBOOK TORCH is to combine the functions of story-projection, starlight projection, night-light and art influence, so as to meet the various needs of children's mind and life such as improving their imagination, language expression and the ability of beauty appreciation.

In addition, the KIDS STORYBOOK TORCH has user-friendly design, such as adjustable focal length, portable design, two-color light source and 15min intelligent closing, which optimizes user experience.

The emergence of this toy promoted the toy industry to explore the possibility of multi-function product.


Review Highlights:
This is a small flash light that projects classic stories for kids. It's simple to use, easy to set up and the stories are relatable to all. My daughter loved projecting the images and telling us what was happening in the story. As an educator, I'd use this product in a K-2 classroom and ask the students to retell the story. This activity would be great to exercise the students' recall, sequencing, and imaginative skills.
We liked the original idea of using a flashlight to tell stories. And we loved the absence of the story text as it encourages children to become the storyteller. Our kids practiced their communication and presentation skills while letting their imaginations run wild.
This is a fun idea for a sleepover! My friend had brought her daughter over for the night and we used the Storybook Torch to project stories that we know so well: Little Red Riding Hood and Cinderella. The kids knew these stories well so it was fun to see what they'd come up with as we changed to each projected image. This was a fun experience!
Buy this product at:
As an Amazon Associate we earn from qualifying purchases.