Academics' Choice Award™ Winner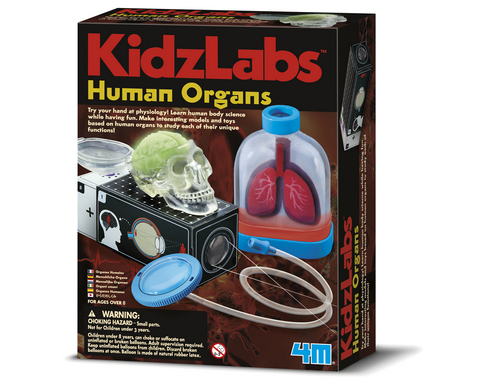 Kidz Labs / Human Organs
Ages: 8 and up
Price: $16.00
Type: Toy
By
4M Industrial Development Limited
Description
Try your hand at physiology! Learn human body science while having fun. Make interesting models and toys based on human organs to study each of their unique functions!

Contains cardboard lungs, outer projector box, inner projector box, reaction challenge strip, plastic lens, semi-transparent film, chain, glow brain parts, plastic skull set, diaphragm and blue disc, clear plastic dome, flexible tubing, earpiece, lung bag, plastic lung cavity, blue lid, balloon, blue base and detailed instructions. Also required but not included: a pencil, an AA battery and a pair of scissors.
Review Highlights:
It was very easy to use. It really gave a good demonstration of how the eye and lungs work, the brain keychain was a big hit, and the stethoscope has led to many hours of playing doctor. We learned about the human body - the heart, lungs, eyes, and brain.
The organ models gave us a good opportunity to have an up close view of the human body in a unique way. Being able to see them in a three dimensional way gives us a different view than just models we can see. It's a creative way to teach about the human body.
Buy this product at:
4M Industrial Development Limited
As an Amazon Associate we earn from qualifying purchases.