Academics' Choice Award™ Winner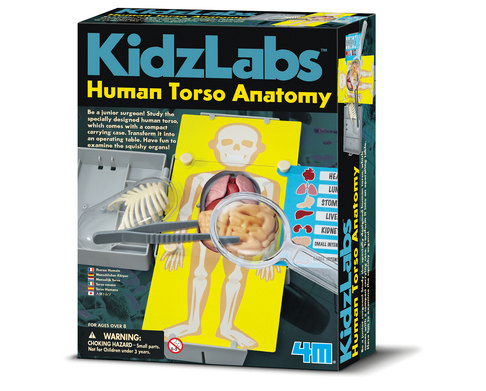 Kidz Labs / Human Torso Anatomy
Ages: 8 and up
Price: $18.00
Type: Toy
By
4M Industrial Development Limited
Description
Be a junior surgeon! Study the specially designed human torso, which comes with a compact carrying case. Transform it into an operating table. Have fun to examine the squishy organs!

Contains surgeonís case (11cm x 11.5cm), magnifying glass, forceps, transparent cover, body card x 4, plastic pin x 4, plastic stand x 3, body parts: lungs, heart, kidneys, stomach, liver, large intestine, small intestine, rib cage and detailed instructions.
Review Highlights:
We were able to learn where certain organs were located in the body and how they fit together. Taking them out and putting them in again while talking about their functions helps to retain the information learned.
I liked the compactness. Also the included anatomy facts were interesting and helpful. The design is great and perfect for a homeschooler. There was really nothing to dislike. This exceeded expectations.
We were just starting a unit on the human body and this 3D model was be a big help.
Buy this product at:
4M Industrial Development Limited
As an Amazon Associate we earn from qualifying purchases.