Academics' Choice Award™ Winner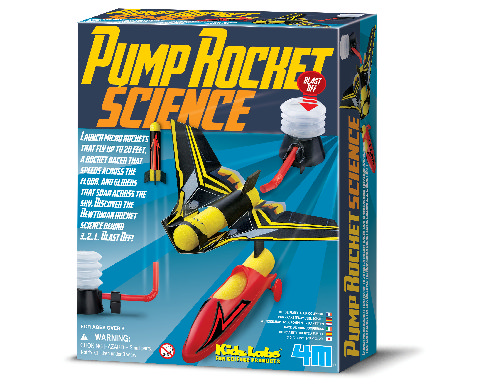 Kidzlabs / Pump Rocket Science
Age: 8
Price: $12.00-14.00
Type: Hands-On Toy
By
4M Industrial Development Limited
Description
Launch micro rockets that fly up to 20 feet, a rocket racer that speeds across the floor, and gliders that soar across the sky. Discover the Newtonian rocket science behind 3.2.1..Blast Off!
Review Highlights:
The Pump Rocket Science kit is a simple kit to assemble with fairly easy to follow directions. It has three small foam rockets, a bellows based air pump, and a race car and glider add on to convert two or the rockets if desired. Despite it's simplicity, this toy had great playability and is still being used a week later. It encourages a curious child to figure out different ways to make the rockets go the direction and distance desired. It's clearly not very durable, but probably about right for the price. We liked this toy and will continue to play with it for a long time.
Buy this product at:
4M Industrial Development Limited
As an Amazon Associate we earn from qualifying purchases.