Academics' Choice Award™ Winner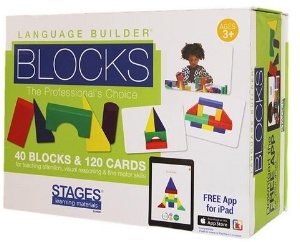 Language Builder Blocks
Ages: 3 and up
Price: $69.99
Type: Toy, App
By
Stages Learning Materials
Description
The Language Builder® Blocks set includes:

40 custom-designed solid wood blocks in vibrant colors that are ready-to-use or can be enhanced by the free, one-of a-kind Language Builder® Blocks App for iPad.

100 unique picture cards of randomly created structures for children to recreate. Ranging from structures comprised of 1-40 blocks to meet a wide range of abilities.

20 "Pretend Play" picture cards of structures made to look like other objects - like animals, foods, transportation, everyday objects, and more!


Review Highlights:
We liked the brightly colored blocks and trying to match the pictures. I really liked how the manufacturer placed a format on the back of each card to record and help track the growth of the learner - great idea! The hundreds of additional structures for children to build available via the app are a nice touch. They really help extend the life of the product and increase the difficulty level.
Easy to get started and hard to put down. Children learn and practice spatial reasoning skills, following directions, and color and shape identification.
We love Language Builder Blocks! It was so easy to get started. We laid out all blocks and chose a card. My boy immediately started to match the card. After doing that a few times we designed our own structures and tried to draw them! My boy just loves to play with these blocks and try to match what he sees on the card. We weren't interested in the app but it looks great too!
Buy this product at:
As an Amazon Associate we earn from qualifying purchases.