Academics' Choice Award™ Winner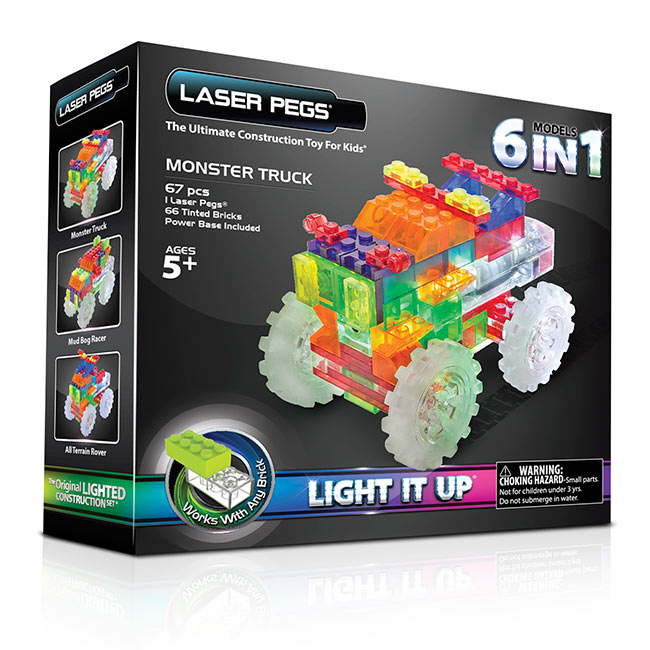 Zippy Do Monster Truck
Ages: 5 and up
Price: $21.99
Type: Toy
By
Laser Pegs Ventures, LLC
Description
Crush the competition with this powerful 6 in 1 Monster Truck kit from Laser Pegs! Get behind the wheel of some bad to the bone models like the Monster Truck, Pro Stock Puller, Rock Climber, and many more. Can the competition see you coming? No. Then light up your creations with the exclusive Zippy Do power base so they can see you coming a mile away! Includes Zippy Do Power Base, 1 Laser Peg, and 66 Tinted Construction Bricks.
Review Highlights:
Laser pegs is a great building toy. I had two children of different ages build with it. They both were pleased and excited at first sight of the box. The colors brightened by the light of the pegs grabbed their attention right away. The number of pieces made the project feel doable for younger children and step by step instruction was followed in a logical sequence. Visual perceptual skills were sharpened by finding appropriate sized and colored pieces to build the model.
The colors of the transparent bricks were very attractive to the children and when lighted gave joy beyond the average brick building toys we all know so well. It was also very easy to find other models of the 6 in 1 online to design.
Great product. Good price. I will share it with friends. Highly recommended.
My children had the opportunity to build a variety of things with this product. There was the opporunity for them to practice sharing and teamwork for bigger builds where all the pieces needed to be used for one item. It also encouraged them to think outside the box when they needed to substitute one piece for another if lacking the pieces needed. They loved being at Laserpegs.com and Youtube.com to see additional ideas for building.
I liked the colors; they loved that the lights would flash on the things they built. They are also quite durable - the kids played with this outside and inside, drove it on their track upstairs and down the stairs. The blocks are easy to remove from one another when neccessary.
We really enjoyed this and continue to spend quite a bit of time on the website getting ideas for building. My oldest son really loved how the instructions came in so many different languages too. He is still studying them - he loves foreign languages so this was a "treat" for him to have so many different ones written down in one place.
Buy this product at:
As an Amazon Associate we earn from qualifying purchases.