Academics' Choice Award™ Winner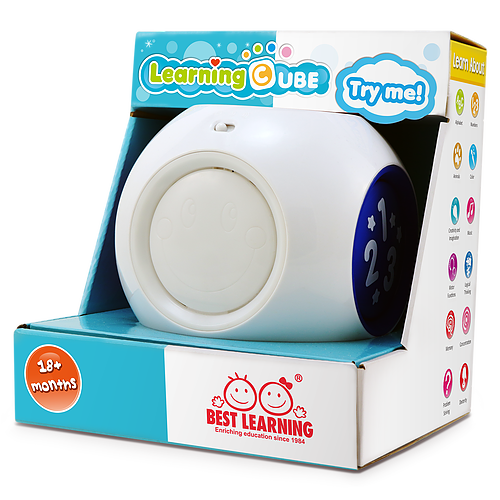 Learning Cube
Ages: 18 months and up
Price: $29.99
Type: Toy
By
Best Learning Materials Corp.
Description
An interactive and educational preschool toy for the little one. Stimulate your child to a whole new way of learning the alphabet, numbers, colors, songs for the alphabet, numbers and colors, entertaining animal sounds, instrument sounds, and lovely music!


Review Highlights:
My 2-year-old daughter loved Learning Cube. She explored all of the sights and sounds it had to offer. It is packed with goodies: The alphabet song, numbers song, learning numbers up to 10, colors, you name it. What I really liked about The Learning Cube was the quality of sound and solidity of the materials used to produce this toy. It could easily be dropped or tossed around and I don't think there would be a problem with it. Another element that is key for all electronic toys is the volume control - which it has. Only 2 levels, high and low, but it works fine. It's funny if you leave it alone for a minute or two it will play the "go to sleep" song :). I highly recommend this product. She loved it and it still keeps her engaged on and off throughout the day.
Each press of the colored buttons on all six sides unleash fun sounds and songs while teaching fundamental knowledge (numbers 1-10, colors, alphabet) and promoting basic motor skills and creativity. Children quickly learn that the sounds and songs can overlap and suddenly they become little musicians, exploring rhythm and beat. Children also work on memory as they figure out which button does what. My son thoroughly enjoyed the Learning Cube.
Buy this product at:
As an Amazon Associate we earn from qualifying purchases.