Academics' Choice Award™ Winner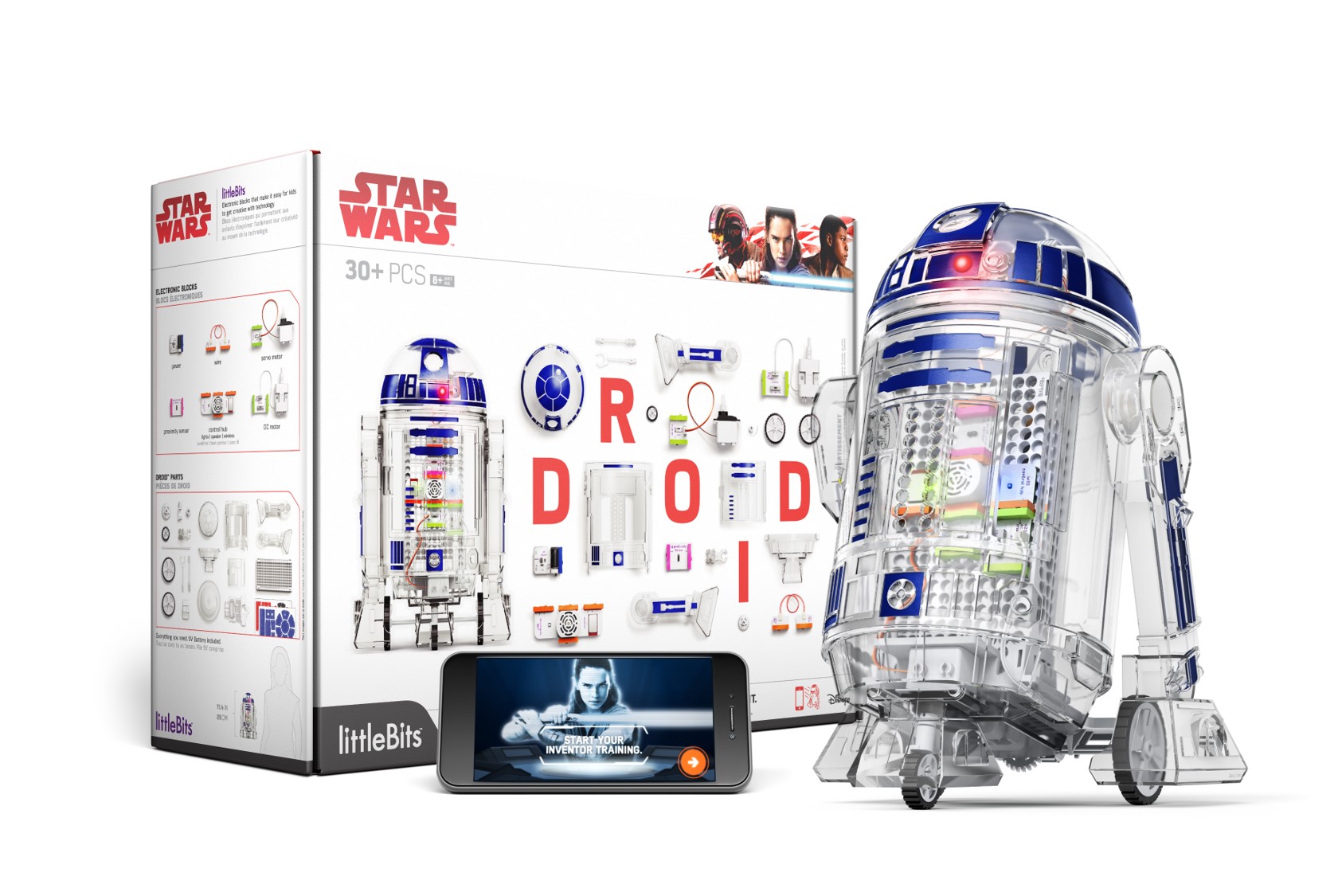 littleBits Droid™ Inventor Kit
Ages: 8 and up
Price: $99.95
Type: Toy, Electronics, App
By
littleBits
Description
For the first time ever, kids can create their own custom Droid™ and bring it to life! Using littleBits electronic blocks and the free Droid Inventor app, they'll teach their R2 Unit new tricks and take it on 16+ missions. Then kids can level-up their inventor expertise and reconfigure their Droid to give it new skills, or design any Droid they can dream up. The kit comes with everything kids need to create and customize their R2 Unit straight out of the box. Initial assembly is easy with step-by-step instructions to create their Droid, and control it in Drive Mode, Self-Nav, Force™ Mode, and more. After mastering their Droid Inventor skills, kids continue on to challenges that spark creativity and get them inventing brand-new Droids.

FEATURES

* Comes with 6 Bits, 20 Droid parts, 3 sticker sheets, and the free littleBits Droid Inventor app
* Free Droid Inventor app with step-by-step instructions and video tutorials guides kids through creating and customizing Droids
* App includes challenges to promote creativity and customization using household items
* 16+ activities and missions in the app to keep kids playing day after day
* The R2 Unit runs in Drive Mode, Force Mode, Self-Nav, and more
* Comes with 20 authentic R2 Unit sounds from the Star Wars films
* littleBits electronic blocks & Droid parts can be reconfigured in different ways to create brand-new Droids

Available at: Walmart, Apple Store, Amazon & littlebits.com
Customer Service #: 917-464-4577
Review Highlights:
My son, Samuel (age 11) and I (homeschooling mom of three and occupational therapist) interacted with the Droid Inventor Kit completing all four major missions, and then continued by creating missions for each other. The final product is an R2D2 droid as seen in Star Wars. My son turned R2D2 into a bot that could deliver drinks to his Dad, and draw pictures for his sisters. The droid now sits in the kitchen ready to serve.
There are lots of things to enjoy about this product. On the surface, it is packaged very well, with pleasing colors and designs, and the battery was included! We were off to a good start. All the small pieces in the package associated with putting together the electonic components of the droid were labeled which not only aided in putting the droid together, but it also helped my son and I learn the names of the different components - instead of calling it the "blue" one or the "red" one we were actually able to put names to the various parts. The directions within the box were short and concise. In fact, the main step was to download an app on your phone. This app contained the step-by-step instructions, and were unique and superior in two regards. First, the app presents putting the droid together as a mission. To my son, this meant that the assembly of the droid was not just something that needed to be done before he could play with it, but was actually part of the fun. And second, short videos were provided at each step of the assembly along with written instructions. The videos rotated the various parts so that it was easy to tell what went where and how it attached. You could pause and repeat these instructions, as well as swipe forward and back on the screen to advance to the next instruction or go back to the previous step. Due to the presentation within the app and its ease of use, my son was not only motivated to independently put the droid together, but he was able to do it himself. The app presented the instructions as part of the training process to which Samuel said, "This makes me feel excited to get ready to build."
To my delight the pieces of the electronic components did not "snap" together as peices typically do. Instead they are pulled together by magnets. This is advantageous as it was impossible to put a piece on inverted or backwards. The magnets would repel each other and not allow the union. When the pieces lined up together, the magnets attracted to each other. This led to us creating nerdy jokes about using "the force" (of the magnets) to build the droid. Furthermore, if the electronic pieces were not put together correctly, the app would alert you that the connection could not be found.
My son really loved the mission that involved drawing pictures. We put different colored markers in and attempted to draw pictures for each other. This simple attachment led us to have a lot of fun together, and also made him start to think of what other things that he wanted to attach to the droid. He decided he wanted a droid that could carry things around the house (like bring a drink to his Dad). We experimented with several different odds and ends that we had around the house using things like plastic cups, chopsticks, etc. in order to create our own attachments. Through trial and error we found the perfect placement for our attachment (it can't be too far forward or too far back or else the droid would tilt and not move) and before too long the droid was running errands for me around the house. And lets not forget the droid noises! Endless fun playing with those, and of course the droid scream is the best!
My boys both love Star Wars and so they were so excited to find out they had the chance to build their own droid with the inventor's kit. This is recommended for ages eight and up; my eight year old was the user of this one. Although he did have assistance with parts of this because his older brother couldn't not try to enjoy this one too! This is super easy to assemble; there are about thirty parts included in this for assembling your droid. With plenty of stickers you can design your very own droid or style him after R2 D2. It is a quick and easy assembly; it even includes the battery. This is a great way for our kids to invent at a younger age while also introducing them to electronics via blocks that help to power the bot and act as a control center. This is a fabulous way for younger kids to start out with programming and electronics while building something fun and also familiar.
I love how easy this was to assemble. My younger son was able to complete this in a fair amount of time on his own and then design it with the stickers which were included. This was a perfect size too for kids to use; durable and full of fun because there are just so many things you can teach him to do.
Star Wars is such a great idea for use to introduce this sort of thing to younger kids. Something that everyone loves; the character encourages them to build and they are able to really explore electronics at the same time. It is a very fun way to get innovative. There are even some fun recommendations that come with this for inventing your own droid using common household items like a milk carton and a paper tube or cup. This not only teaches them to how build and program but also encourages them to be little inventors.
Buy this product at:
As an Amazon Associate we earn from qualifying purchases.