Academics' Choice Award™ Winner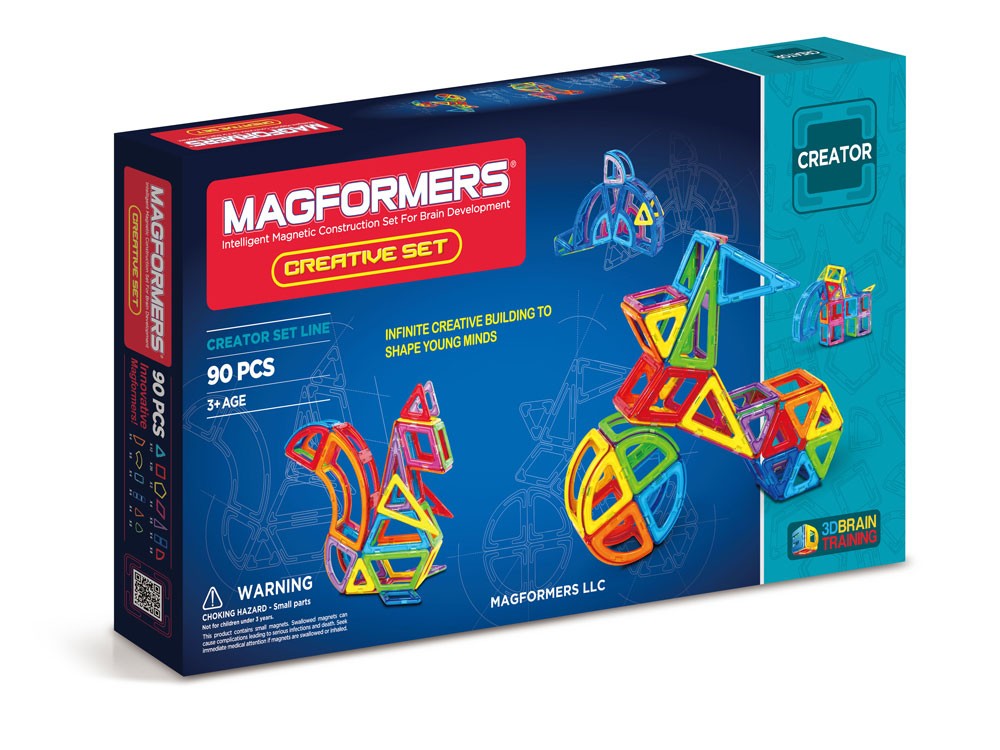 Magformers Creative 90Pc Set
Ages: 3 and up
Price: $189.99
Type: Toy
By
Magformers, LLC
Description
Explore the Creative 90Pc Set from Magformers, the leading provider of magnetic construction toys that use the strongest Rare Earth Neodymium magnets for guaranteed connectivity! Create the 6 different MAGFORMERS® building techniques with our new Creator 90Pc Sets. Build sea animals using our wall technique or explore 3D geometry and create a magic ball using our pull up tricks. All Magformers sets are compatible with one another. Use the magnetic power to simply stack and store.


Review Highlights:
Kids who use Magformers develop and practice creativity, engineering, math, cooperation, following directions, comparison, balance, visual discrimination, logic, analysis, problem-solving, science, and so much more!
The Magformers were a HUGE hit right out of the box. I have 10 kids at home from 20 months up to age 17. These captured the attention of ALL the kids. The youngest kids (20 months and 3) loved making "Free play" creations and asking me to take a picture. The elementary age kids (5,6,9, and 11) loved following the included booklet to build animals, towers, magic wands, and every other project. The booklet shows about 80 creations and my kids each built them all at least once, followed by modifications to make their own creations. Initially my 5-year-old needed some help building the creation, but after 3-4 projects he was able to select the needed pieces and figure it out. My teenagers followed some of the models, but mainly built their own creations. It seemed to draw teenagers over whenever the younger kids had them out and several times I found a teen still working with them after all the younger kids had left the room. They are just fun!
In addition to being fun and creative, I used them as math manipulatives in homeschooling for concepts like matching, sorting, area, perimeter, counting, adding/subtracting, multiplication, etc. Because they were "fun" the kids stayed focused really well and loved it.
With the Magformers, the magnets are not able to come out of the pieces and I felt very comfortable letting even my 20 month old play with them.
This set would make a great gift because their are enough pieces for more than one kid to play at the same time. It is colorful, safe, and engaging.
Buy this product at:
As an Amazon Associate we earn from qualifying purchases.