Academics' Choice Award™ Winner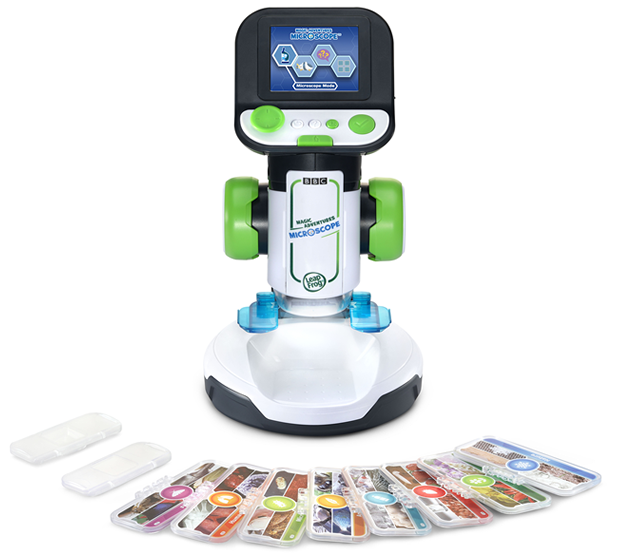 LeapFrog® Magic Adventures Microscope™
Ages: 5 and up
Price: $89.99
Type: Toy, Game, Gear & Equipment
By
LeapFrog
Description
Explore tiny worlds full of huge discoveries with the Magic Adventures Microscope™. Young biologists can zoom in on flowers, animals, food, minerals and more using eight double-sided smart slides that activate amazing BBC videos and images. Discover answers to curious questions like: How do leaves changes colors? What do plant cells look like? What is sand made of anyway? Make your own discoveries by finding things around the house and getting a closer look using the reusable slides or large sample tray. You'll be amazed what you can see with up to 200x magnification on this real microscope. See something incredible? Capture and save the on-screen images. Game time! Defend microorganisms from micro-invaders or put your skills to the test with the What's This? quiz.


Review Highlights:
This is amazing for kids who are interested in the world of STEM. This is my son's very first microscope, and I suspect it won't be the last. It's user friendly so children can learn their way around this in just minutes. My son loves carefully examining each slide and reporting back to me what he finds, and he's truly able to retain knowledge he learns from the slides and fun facts, because he does very well on the quizzes. I think that's because he enjoys what he's learning about, and that's why it's so important to me to provide opportunities that make learning fun. We love that this product encourages curiosity and nurtures a passion for science.
With up to 200x magnification, kids can view both photos and educational videos and learn hundreds of fun facts about subjects such as animals, food and minerals, the human body, various kinds of flowers, and more! The Magic Adventures Microscope also has exciting games where children can learn more about life on a microscopic level, including how to feed these hungry microorganisms or healing microbes. Ready for a challenge? Check out the quiz games for a chance to see how much they've learned!
A great STEM product for children! It makes learning about the natural world super fun! We love that the microscope really works so we can find other stuff around the house and backyard to examine.
Children learn about countless science topics and practice observation, analysis, comprehension, logic, comparing and contrasting, and much more.
Buy this product at:
As an Amazon Associate we earn from qualifying purchases.