Academics' Choice Award™ Winner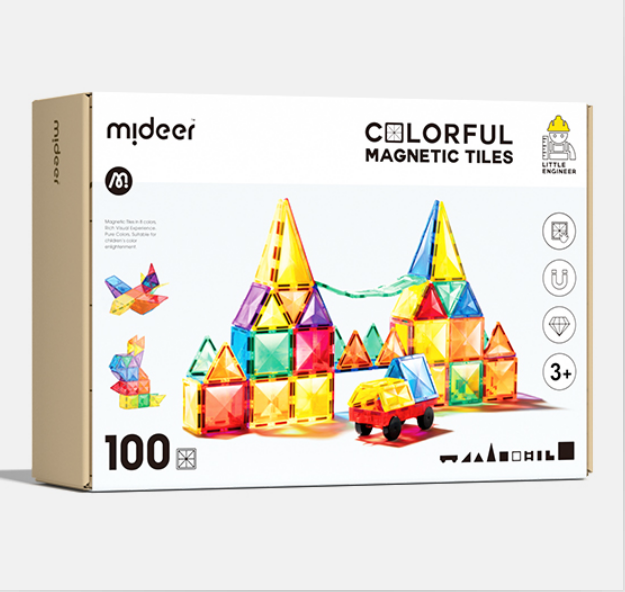 Magnetic Tiles
Ages: 3 and up
Price: $55.99 USD
Type: Toy
By
Ningbo Mideer Network Technology Co LTD
Description
Open color window magnetic film, select a new generation of high-quality magnetic cores, the magnetic force is strong for a long time, the splicing is stable and not loose, and it is easy to create art.

The large size design of 7.5cm is very suitable for young babies to grasp, and it is safer.

From plane to three-dimensional, from simple cognition to complex construction, gradually develop baby's brain thinking.

The 8-hour classic color enriches the baby's visual experience and enlightens the cognition of color.

360 degree fine grinding, smooth touch without touching.


Review Highlights:
Everyone enjoyed these Magnetic Tiles! We had family members from age 4 up to adult playing with this together. We created challenges (build a bridge, 3D letters, etc.) to complete, and also had fun trying to create structures while using up every single piece. This is a fantastic toy that can be played again and again!
These colorful tiles were the perfect gift for my grandchildren! We like to keep activities at our house for all of the grandkids to use when they visit, and these magnetic tiles keep them busy. We look for toys that promote open-ended play so they can use their imagination to create with tons of possibilities, and these are good for multiple children to use when playing together. They can build something together, or each take a pile and build on their own. As much as they love building, their favorite part is at the end when they can smash it and start all over.
Colorful, beautiful product that promotes open-ended play!
This product inspires creativity, problem-solving, self-confidence, and group play. Children practice spatial thinking, fine motor skills, problem solving, decision making, and much more.
Buy this product at:
As an Amazon Associate we earn from qualifying purchases.