Academics' Choice Award™ Winner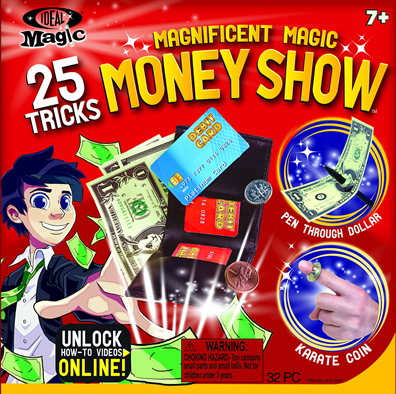 Ideal Magic Magnificent Magic Money Show
Ages: 7 and up
Price: $17.00
Type: Toy
By
Alex Brands
Description
Learn over 25 money tricks to impress your friends and family! Tricks include Karate Coin, Pen Through Dollar, Self-folding Dollar, Penny to Dime, and more.

Includes a Magic Wallet to transfigure bills and cards, or make them vanish and reappear, mock money and credit cards to practice or perform with, karate coin, bill piercing pen and easy printed and online video instructions.


Review Highlights:
My son really loved learning and performing these magic tricks. As an educator, I loved watching him develop his planning, sequencing, organizational, fine motor, concentration, and memory skills. It really helped him with his presentation and social socials too.
This is fun, experiential-based educational product. It helps students develop fine and gross motor skills, learn to follow directions, improves communication and interpersonal skills, and helps build self-efficacy. Learning and performing magic is a superb way for students to learn to manage stress and pressure in a non-threatening way. The kit is also priced well, plenty of tricks to learn, and the online videos were a great resource.
My 10-year-old boy loves this magic set! Great beginner magic set for the price!
Buy this product at:
As an Amazon Associate we earn from qualifying purchases.